Redmoon Theatre's Jim Lasko and City of Chicago Commissioner of Cultural Affairs Michelle Boone join us to talk about the unprecedented city support for this weekend's Great Chicago Fire Festival. Along with music and fireworks, three specially created Victorian homes will be set ablaze on the Chicago River in an artistic commemoration of the Great Chicago Fire.
---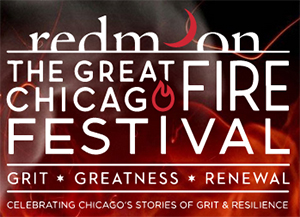 The City of Chicago and the Chicago Park District, in partnership with Redmoon, present the Great Chicago Fire Festival. This inaugural event aims to unite all Chicago neighborhoods and educate event-goers on the city's journey to restoration after the infamous fire of 1871. Learn about Chicago's history, passion, and drive for greatness following the most devastating event for the city. More than 30 community-based organizations from 15 neighborhoods are set to bring epic theatrics and unique machinery to this demonstration. The event is free and the Grand Spectacle begins at 8:00 pm on Saturday, Oct. 4.
View a slideshow.
Starting at 8:00 am, Chicago's loop neighborhood will experience some street closures. In order to accommodate spectators and vendors, the city will be shutting down westbound lanes of Upper Wacker between Stetson and Michigan. The westbound curbside lane of Upper Wacker between State and Michigan will be used as loading areas throughout the day. The city recommends event-goers take the "L" train line to N. State Street. The Pink, Red, Orange, Green, and Brown lines each have a stop at State and Lake, just one block south of the event.
View a map the Great Chicago Fire Festival's layout:
--Map by Taurean Small