---
For 25 years, Redmoon engaged the community in dozens of neighborhoods. Its exuberant street parades and seasonal festivals brought theatrical magic right to the people. But the twin problems of fallout from its Great Chicago Fire Festival in 2014 and an expensive rental space in Pilsen have brought the respected company to its end.
We speak with the company's longtime artistic director Jim Lasko.
"I wanted to have a citywide impact," Lasko said about his vision for Redmoon, and the fact that most of the company's performances were free. "I thought that the nature of spectacle and the way that it empowers community should be felt within those communities, and that meant being free. We created all these other revenue streams. We did parties that were $100 a ticket, we had Redmoon for hire, which was going out and doing events for people's weddings and corporate events and things of the like. We just missed in the end as we really tried to ramp up to this new scale."
As to why Redmoon decided to close up shop entirely, rather than scale back its projects, Lasko said it was really just the right time to do so.
"I think that this particular manifestation of the theater just reached its conclusion," he said. "We had accumulated debt that we needed to pay off, and we decided  as a group that closing our doors left, in a sense, a vacuum that we knew others would fill; that we had blazed a trail we believed that others would step into. I do believe that. There are so many artists who we've worked with over time who will come and take up the mantle and do amazing things."
Redmoon's low point came in October 2014, when the highly publicized Great Chicago Fire Festival failed to ignite – literally. Lasko remembers feeling sick to his stomach as he watched the events unfold.
"I was on the lower Michigan Avenue bridge and my stomach just fell into my socks. I just felt absolutely sick, and there was nothing to do at that point really, nothing at all to do."
As to the high points, Lasko says he recently counted 12 marriages that came out of Redmoon's tenure.
"I'm super proud of that," he said. "We've collaborated with people from the Safer Foundation and Cure Violence to the Happiness Club, to Steppenwolf to Chicago Shakespeare Theater. I've gotten to know and we've gotten to be a part of this city in such a deep and profound way. The city is better for having had us, but we're so deeply grateful for having been here."
Below, a look at some of Redmoon's productions over the years.
---
Public thank you
A goodbye message posted on Redmoon's site last month offers thanks to the community but also insight into what went wrong. It reads in part:
Our core mission was to bring massive, unexpected free art to public spaces — to bring people together across difference in acts of momentary and meaningful celebration. From the Fire Festival in recent years to some of our earliest outdoor work, our dream was to create a new kind of urban ritual.

There is no funding model for this civic and social artistic vision. We have tried to create new models. From our indoor parties and events, to our Redmoon For Hire rental business, to our new building's event venue business, we've innovated new models to support our unique artistic vision. But, quite simply and quite sadly — our innovations haven't been able to keep up with our civic goals.
Looking back
The promotional video for Redmoon below offers a look at some of the company's spectacular performances over the years, including the All Hallows' Eve celebration Logan Square, and a preview of the Great Chicago Fire Festival of 2014 (yet to take place at the time the video was produced).
---
Related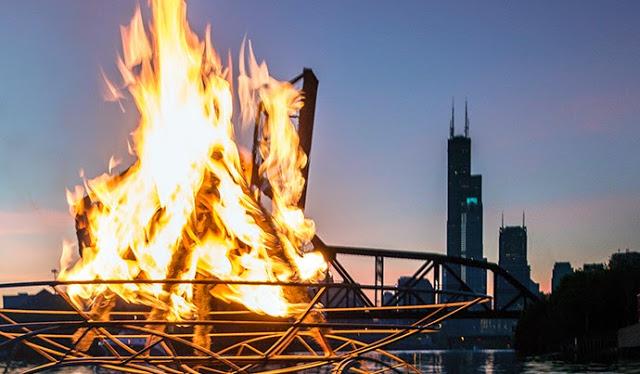 Great Chicago Fire Festival Returns After Disastrous Display Last Year
The festival, from Pilsen-based Redmoon Theater, will take place at Northerly Island on Saturday. Find out what other changes are in store this year.
---