Flight delays and cancellations are expected to continue at Chicago's two airports following a fire set at a radar facility in Aurora on Friday. U.S. Sen. Dick Durbin is calling for an investigation into the FAA emergency protocols following the incident. Meanwhile, the suspect, Brian Howard, appears in court and faces one count of destruction of aircraft facilities. Carol Marin is joined by Deborah Hersman, president and CEO of the National Safety Council, Phil Rogers, who has been covering this story for NBC 5 News, and Rob Mark, a commercial pilot, publisher of Jetwhine.com, and former FAA tower and radar controller around Chicago, to talk about the system-wide repercussions, what's being done now, and security in the future. 
---
Brian Howard, a contract employee at the FAA control center, arrived at the Aurora facility at 5:06 am on Friday, Sept. 26, according to the criminal complaint. Video surveillance shows Howard dragging a black Pelican case when he entered the control room.
Approximately 30 minutes later, a private message was posted on a Facebook account held by Howard; a relative of Howard's saw the message and forwarded it to the Naperville Police Department, who then forwarded it to the Aurora Police Department, according to the complaint.
At approximately 5:42 am, an individual within the control center called 911 and reported the control center was on fire. When emergency responders arrived, paramedics found Howard with a knife to his throat. Paramedics were able to take the knife away from Howard and transported him to a hospital in Aurora.
The fire extensively damaged the basement of the FAA facility in Aurora, shut down both O'Hare International Airport and Midway Airport, and led to the cancellation of thousands of flights.
View flights around Chicago the day before a fire was set at a radar facility in Aurora and the day the fire was set.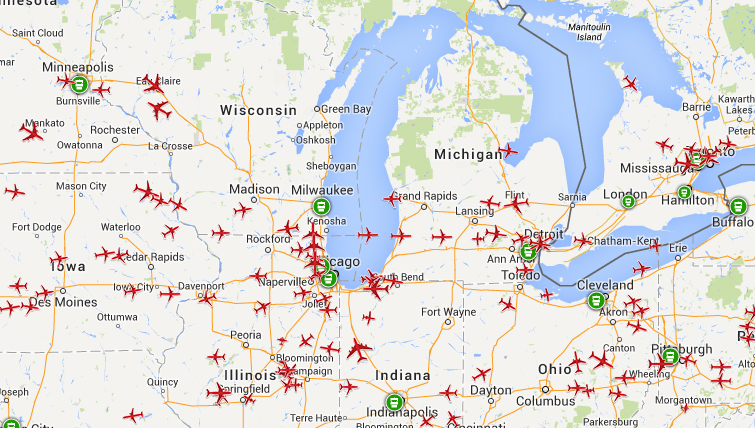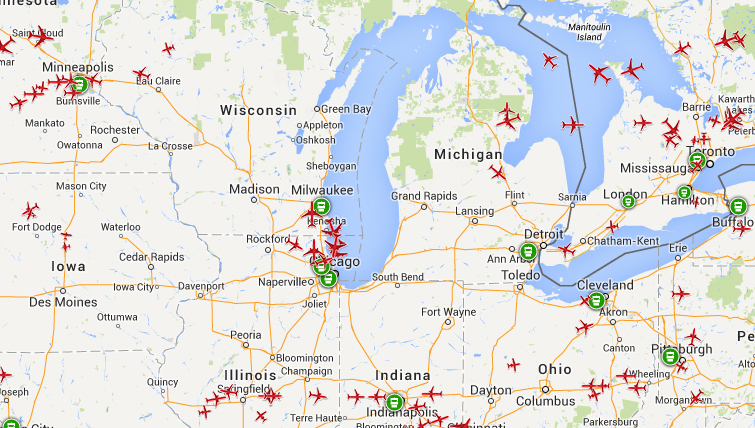 Following the incident, FAA Administrator Michael P. Huerta announced a "30-day review of contingency plans in the event of unexpected outages at major air traffic facilities around the country and security protocols and practices at FAA facilities," according to a press release.
While FAA officials are working to make repairs as quickly as possible, they've set a target date of Oct. 13 to have the Aurora facility fully functional. As of noon today, "more than 80 percent of the average Monday traffic for the past two months was flying in and out of O'Hare, and more than 90 percent of the two-month Monday average traffic was operating at Midway," according to a press release.