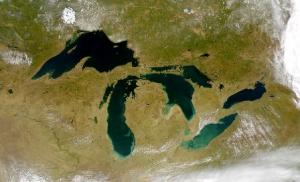 Last month, a toxic algae bloom in Lake Erie put Toledo's drinking water in jeopardy, prompting people to wonder if the same thing could happen to Lake Michigan and Chicago's water supply. Today, a summit on the protection and preservation of the Great Lakes was discussed in Chicago. The summit was hosted by Mayor Rahm Emanuel and the Great Lakes and St. Lawrence Cities Initiative, and brought together 20 U.S. and Canadian mayors, as well as leading experts in drinking water and environmental protection. Topics at the summit included water quality challenges, opportunities to reduce water pollution, and potential action items to protect critical freshwater resources.
Mayors from across the region called for immediate action to protect the Great Lakes and St. Lawrence River as a source of drinking water for more than 40 million. The group called for action:
By USEPA to establish a common limit and an emergency response protocol for microcystin in drinking water for the Great Lakes and St. Lawrence region;
By Great Lakes states to establish a phosphorus open lake water quality standard;
By agriculture to further reduce the runoff from farms into Lake Erie, including better nutrient management and application of the '4R Nutrient Stewardship' program;
By municipalities to further reduce phosphorus loadings through more green infrastructure, better treatment plant operations, and pollution prevention measures.