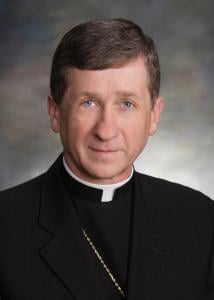 Saying that he was "well-prepared" for the responsibilities of leading a church of 2.2 million people, Cardinal Francis George introduced his successor, Blase Cupich, who will formally take over as head of the Archdiocese of Chicago on Nov. 18. Cupich said he was quite overwhelmed at his selection by Pope Francis.
"Surprise doesn't come close to the word to describe it," he said. "I'm no saint, but I hope I can live up to the responsibility."
Cupich, 65, comes from Spokane, Wash., where he has led a diocese of 100,000 for four years. He was bishop of Rapid City, S.D. for 12 years before that. He has been described by various Catholic media as a "moderate" on many issues, choosing to focus less on social issues like contraception and abortion, and more on social justice issues. It's a contrast to outgoing Archbishop Francis George, who has been seen as more of a conservative. 
"Everyone brings their own talents and experiences," Cupich said. "It's not my agenda, it's not what I feel. I'm going to be attentive to what the lord wants. If there's moderation in that, maybe I'm a moderate."
Cupich is a native of Omaha, Neb., and the son of Croatian immigrants. He says he hopes he will have a special connection with Chicago's sizable population of Eastern Europeans.
Many Catholics believe Pope Francis set out to make a strong statement about the direction of the American Catholic Church with this appointment. Cupich shrugged off the perceived symbolism of the appointment.
"I think the Holy Father is a pastoral man. His priority is not to send a message, but a bishop, someone to serve the needs of the people. I wouldn't want to politicize this or put it in any different context," Cupich said. 
Cupich did however take a strong stand on immigration, saying in Spanish that he wanted Chicago's Hispanic families to see him as a brother.  
"We need comprehensive immigration reform," he said. "It's time for political leaders to put aside their own agenda and take up this issue."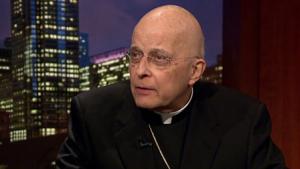 George, who will continue as a cardinal when he retires as archbishop, said Cupich will be fully briefed in the next two months on the legal issues facing the church, most notably a group of child sex abuse cases that are still in the process of being settled. George has taken criticism from groups like the Survivors Network of those Abused by Priests for what they say is a failure to remove child predators from the ministry, and for enabling them to continue to prey on children. But Cupich praised his predecessor for his role in influencing the church to tackle the issue.
"We would not have zero tolerance with the issue of child protection if not for this man here. He's the one that pressed for it more than anybody in the face of opposition," Cupich said.
George will be the first Chicago Archbishop to retire while still alive. He said that "relief" is at the top of the range of emotions he's feeling today, pointing to his battle with three different cancers and unexpected side effects he's felt from a new experimental treatment he's receiving from the University of Chicago.
"Not only is it good to have change over 17 years, but it's also necessary," he said. "I have to spend a lot more attention to health problems than I have before."