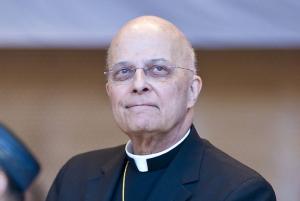 While the doctors at Loyola University Medical Center continue to treat Chicago Cardinal Francis George, he has agreed to participate in a clinical research trial at University of Chicago Medicine as well, according to a media release by the Archdiocese of Chicago.
Recently, the Cardinal underwent a regular medical procedure at Loyola University Medical Center to replace a stent in his ureter. This procedure has been done routinely every six months over the last few years.
The clinical research trial at U of C Medicine is testing a new medication designed not to kill cancerous cells directly but to reinvigorate the patient's immune system, enabling it to recognize cancer cells as foreign and destroy them.
This approach differs from that of traditional chemotherapy, which uses drugs designed to be toxic to cancer cells. The investigational drug, now known as MPDL3280A,is an antibody that blocks the effects of a protein called PD-L1, which is found on the surface of many cancer cells and can prevent a patient's immune system from attacking cancer cells. The drug was designed to reverse that effect, allowing the patient to unleash a normal immune response.
The drug is currently in Phase 2 trial, which means every patient in the study will receive the same treatment. In May, the makers of the drug reported promising results from Phase 1 of their trial. Of the 30 participants, 13 PD-L1-positive patients with advanced urothelial bladder cancer showed evidence of a "durable effect." The current study seeks to confirm these results in a larger number of patients.
The Cardinal will continue to maintain his regular schedule, according to the release which also stated the Archdiocese of Chicago has limited information at the time because it is a new treatment.
The Cardinal is grateful to those who are praying for him and requests that everyone continue to remember him in their thoughts and prayers.