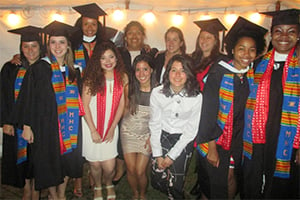 We take a closer look at two organizations helping students of limited means but with high academic and leadership potential achieve their dreams of a better education. These organizations work to expand low-income and minority enrollment in top tier high schools and colleges. They also give support to the kids throughout their academic careers. Joining us to talk about bridging the diversity gap in education are Deborah Bial, founder and president of The Posse Foundation and Lee Hart, the executive director of High Jump.
Posse
Posse's mission is to expand the pool from which higher institutions recruit from. The program locates public high school students with strong academic and leadership potential that may be overlooked by traditional college selection processes and enters them into their scholar program. Posse then places these students in diverse teams of 10 to train them on individual and community development. These teams are oftentimes multicultural to encourage new ideas and open-minded reflection for the participants. Upon completing the program, Posse scholars are awarded four-year, full-tuition leadership scholarships to participating colleges and universities.
High Jump
High Jump reaches out to students earlier in their academic careers. The program offers scholarly enrichment to talented middle school students who are of limited economic means. The selected students participate in a curriculum of over 350 classroom hours during a school year. This also includes Saturday programming and daily six-week intensive summer sessions. The program does offer incentives for students including mentoring, high school application and financial aid counseling and complementary text books and school supplies. The accelerated program looks to prepare these students for academic success and opportunities to excel.