Intimate black-and-white photographs document the South Side nightlife of the 1970s in a just-opened show at the Museum of Contemporary Photography.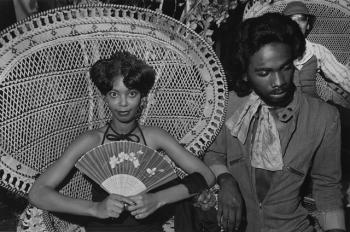 Scarves, jumpsuits, and elegant hats are on display along with dancing, drinking, and smoking, but what's most arresting here is the subtle beauty of human interaction.
Sometimes funny, sometimes sad, these vibrant pictures conjure a scene that's long gone. You can't help but wonder if the people in the pictures are gone, too.
The exhibition is called Pulse of the Night, and the photos were shot by Michael L. Abramson beginning in 1974. The white man with a camera was welcomed into the blues and soul clubs, and he returned several nights a week for years.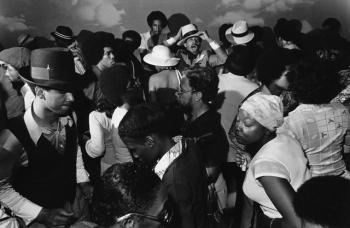 Included are shots from Perv's House on East 79th Street. The block long club was owned by Pervis Staples of the Staple Singers. Abramson once called it "the Playboy Club for the South Side." He also took snapshots at Pepper's Hide Out and The Five Fingers Social Club, among many other hotspots.
This series won Abramson a grant from the National Endowment for the Arts and launched his career as a photojournalist. His work is now in the collection of the Smithsonian, the Art Institute, and the Chicago History Museum. Michael L. Abramson died in 2011.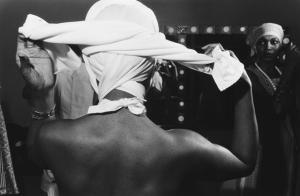 The exhibition of 34 images is at the Museum of Contemporary Photography. The museum is supported by Columbia College Chicago, and this show is hung on the second floor of the Columbia College Library. The library is located at 624 S. Michigan Ave. Pulse of the Night is free and runs through Dece. 20.
[Note: Some of the images in the show were previously seen in the Grammy-nominated multimedia package Light: On the South Side, released by the Chicago music recording company Numero Group in 2009.]
View a slideshow of his work.
All photos copyright Michael L. Abramson