The city celebrates the U.S. Little League champs Jackie Robinson West All-Stars. Paris Schutz has the complete recap of the day's festivities. View the Jackie Robinson West lineup and their stats from the Little League World Series 2014 tournament.
---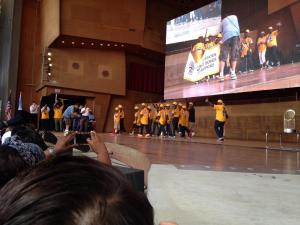 Today was a memorable day for the city, and it will undoubtedly be a day the 13 twelve year-olds of the Jackie Robinson West All-Stars never forget. The U.S. Little League World Series Champs received their due today with a massive parade from the far South Side to Millennium Park. There, throngs of yellow-clad supporters showed their adoration.
On the surface, today's event was about coming together to celebrate a remarkable team for reaching the pinnacle of the Little League World Series. But there was an inescapable feeling among the speakers and sea of supporters that this was a galvanizing moment, and that it was about something much deeper.
"The people who are gathering, not just for sports celebration, but are gathering and rallying, sending the message to put down the guns," said White Sox Vice President Kenny Williams. "So pick up a ball, or a glove, a book, a paint stick, a science project, something. Put down the guns."
"They have morphed into something we are privileged to be a part of," said White Sox television broadcaster Ken "Hawk" Harrelson, who emceed the ceremony.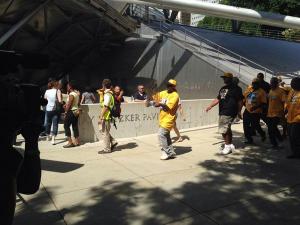 The team arrived at Millennium Park at about 11:30 am after a 12-mile parade from the South Side's Jackie Robinson Park, Coach Darold Butler holding the U.S. Championship trophy. Riding along in their caravan were Gov. Pat Quinn, Mayor Rahm Emanuel and a host of other public officials.
The team graciously thanked the city for the outpouring of support. Jackie Robinson slugger Pierce Jones, who blasted three home runs in the World Series' opener, took the mic on behalf of his teammates to tell fans that they felt the hometown love all the way in Pennsylvania.
"We saw most of it from [Williamsport], and we just want to say thank you, and we love you," said Jones.
At a press conference following the marathon morning of rallies and parades, the 12-year-olds were laid-back and joked about not looking forward to starting school. They've been on the road for the better part of a month at the state, regional, and world finals, and they have had little but baseball on their mind during that time. But some of the players and coaches seemed to understand the symbolism surrounding their phenomenon.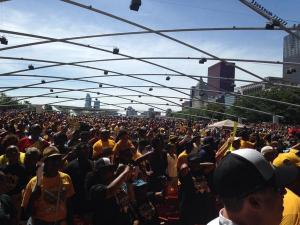 "We're African Americans from the South Side that's shown people that the South Side isn't just about bad things," said Marquise Jackson.
"I think the example they're going to set is, whatever you do art, music, dance, if you have those same values, hard work, determination, persistence, and you have supportive parents, you'll be successful," said Jackie Robinson Little League founder Bill Haley.
The city estimates that 10,000 attended the rally in Millennium Park, 2,000 spectators saw them off at a morning rally at 106th and Aberdeen on the South Side, and thousands more lined the parade route. And among the yellow-clad crowd were a mix of fans new and old alike, baseball executives, family members, and other supporters who waxed ecstatic about each and every Jackie Robinson player.
"It's so unreal, I don't think it's really set into them yet how big an impact they've made on the city of Chicago," said Shay Turnidge, who's a cousin of player D.J. Butler.
And Cubs President Theo Epstein sported a shirt that said "Cubs love JRW."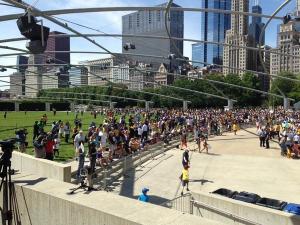 "We need to rally behind them and take advantage of this watershed moment," said Epstein, who acknowledged that baseball had fallen behind basketball and football in popularity among inner city youth. "It takes outreach, you can't just wait for kids to sign up and play baseball. I'm biased, but I think baseball is the best sport to play to learn lessons not only on the field but off the field."
And one fan said that the Jackie Robinson players were carrying on the legacy of the league's namesake, African-American baseball pioneer and legend Jackie Robinson.
"Jackie Robinson stated that a life is not important except for the impact on other lives, and look what's going on," said fan Samaria Smith. "The city has united together, north, south, west."
View the Jackie Robinson West lineup and  their stats from the Little League World Series 2014 tournament.
--Graphic by Travis Cornejo