What kind of message is Illinois sending by letting the Thompson Center fall further into disrepair? In contrast, a number of hotel and luxury apartment buildings are going up in the downtown area and a new stylistic trend emerges. We discuss this and more of the city's hot topics with Chicago Tribune's Pultizer prize-winning architectural critic Blair Kamin. 
---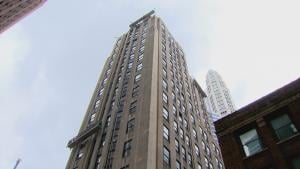 By next spring, Hampton Inn fully expects to occupy the currently-defunct Chicago Motor Club building. When the art deco building on E. Wacker Place was sold at auction three years ago, it faced an uncertain future.
Vacant since 2004, the 15-story building is set to house 143 hotel rooms when it opens in the spring of 2015, according the Chicago Tribune. The project is bolstered by the possibility of federal historic preservation tax credits and the Cook County "Class L" provision, which would lower property taxes on the building.
With a history dating back to 1928, the building was the headquarters for an organization that pressed for better roads, provided emergency assistance, and route information for drivers.
The lobby featured a mural by Chicago artist John Warner Norton. The piece, also set to be restored, mimicked a map with geometric shapes depicting landmarks across the country. As the mural pre-dated the U.S. Interstate system, it highlighted major national highways.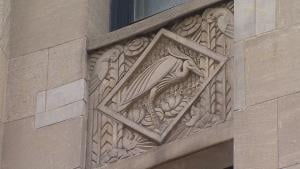 Gettys One, a Chicago hotel interior design group, plans to incorporate that art deco aesthetic, using geometric patterns and clean lines in its designs for the lobby. Those geometric patterns were also found on the exterior of the original building, with stylized flowers, birds, zigzag designs, and the Chicago Motor Club logo.
Structurally, MacRostie Historic Advisers and Hartshorne Plunkard Architecture of Chicago will oversee the cleaning of the exterior limestone façade and the restoration of the cast-iron pylons on the main entryway. Further, architects were able to coordinate around most existing structures, save for six rooms that will feature a structural column near the foot of the bed.
John T. Murphy, president of MB Real Estate, told the Chicago Tribune the hotel's location will draw in travelers and it will have a distinct look that sets it apart from other Hampton locations.