Sean Graney is a passionate theater artist with a strong point of view. The company he founded and works with, The Hypocrites, is delighted to match his energy. Hoping to bring the sense of community and public discourse Graney believes existed in ancient Greek theater to present day Wicker Park, he is staging his nearly 900-page adaptation of all 32 Greek tragedies surviving in our time. Titled "All Our Tragic," audiences attending the play will spend 12 hours in The Den, a storefront theater on N. Milwaukee Avenue, where they will see four full-length plays. 
"All Our Tragic" has its first show Saturday, Aug. 2 from 11:00 am-11:00 pm. Tickets cost $75. There will be nine hours of performance and three hours for snacks and meals. The show will run every week through Oct. 6. 
---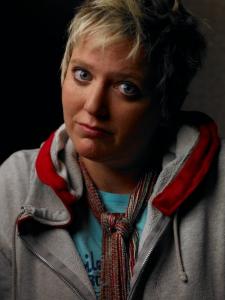 Halena Kays is the artistic director of The Hypocrites which is entering its 18th season. Read an interview with her.
Tell me about Sean Graney, founder of The Hypocrites and director of "All Our Tragic."
The most interesting thing about Sean is he has always had such a clear vision of whatever production he's working on. He creates a whole world around it. The intentions and hopes he has for the audience and the purpose of the production is so clear. 
Writing, directing and portraying one play requires clarity and focus, how do you think Sean Graney will be able to convey 32 plays in one in show?
Right now, they're in technical rehearsals, and it's really impressive to watch. The amount of time and focus that's required, your artistic brain can only do so much, and he's really asking a lot of his own imagination, clarity and focus to work through all the plays in time for opening. And being a playwright on top of directing is an incredible artistic feat. He manages his time well. He manages himself, treats himself and his work the same way an athlete might train for a marathon or a long race
What was your first reaction when Sean Graney told you his idea to combine 32 Greek tragedies into one 12-hour performance?
I've known him for so long, I guess, my thought was, "yes, of course. Let's do it." It's something bold and big. We had just finished doing all of the Sophocles tragedies that he wrote and produced, and that turned out good. That seemed crazy and it was six hours. The audience came, and it was critically acclaimed. It was a wonderfully successful event. That led us to know that a big project like this was not as crazy as it sounds. We can create an epic one-day event….And that's just the way Sean is; once he has an idea, he works harder, clearer and better than anyone else you know. Generally, I say yes to whatever he says because I know he will make it work. 
What else would you like to say about the show?
There's something exciting about it. It's uniquely Chicago to me. Chicago is a town known for ensemble theater and original work; it is known for [having] a great theater audience. People are hungry for intellectual and artistic expressions. This is a pretty terrific opportunity to do this here. I feel like the community is supporting it, and we have the talent to pull it off. I think how lucky we are to live in Chicago to see something like this.
What do you hope is the outcome of this performance?
I guess I hope that everyone who comes has an experience that is moving to them and sees something beautiful that they will remember forever. In a larger way, for the company, I hope people take the risk to come and give up, not give up but hand over their time to this experience. I think it's a worthwhile thing. I hope people come take the risk to come and immerse themselves in the world we've created for them. 
Interview has been condensed and edited.