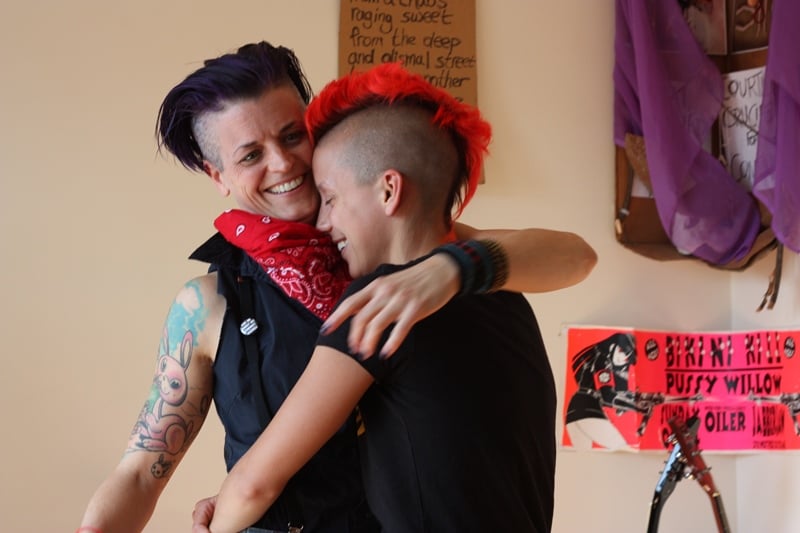 Molly Brennan, left, and Malic White in their Humboldt Park apartment. (Chloe Riley)
Chicago performers-slash-clowns extraordinaire-slash-romantic partners Molly Brennan and Malic White have lots of names for things in their Humboldt Park apartment. The bed is the "couch mattress," which serves both functions equally–being one of the only pieces of furniture in their living room. That particular space is referred to as the LIVING room (emphasis on the "living"), since it's a main space in the apartment where the two collaborate and play, though technically they've only lived together a few days – Brennan just returned from an almost four-month "Lookingglass Alice" tour where she resumed her reign as the Red Queen, a role she's played for over five years with the company.
Since turning Equity in 2009, Brennan, 44, has seized a slew of typically masculine roles, including the Red Queen (originated by Tony Hernandez), Harpo in Goodman's Theatre's "Animal Crackers," Smee in Lookingglass' "Peter Pan." She's a co-founder of 500 Clown – a highly physical performance group that incorporates improv and circus arts into dramatic storytelling – and for three years, she acted as artistic director for arts education nonprofit Barrel of Monkeys, which develops sketches out of creative writing workshops at Chicago Public Schools.
White, who's 25 and goes by the pronoun "they," performs regularly with the Neo-Futurists as an ensemble member and has written op-eds on gender for Bitch Magazine and The Huffington Post. More recently, White's taken on St. Jimmy – a role that's been performed by both Green Day's Billie Joe Armstrong and Melissa Etheridge – in the Hypocrites' current production of "American Idiot." Brennan and White met in the last year and a half after "Internet stalking" each other, ultimately connecting in person at Salonathon, a weekly cabaret series where the two perform.
The limited furniture means Brennan takes the floor; White, the so-called couch mattress. The two vegans sip hazelnut-cinnamon coffee (sans cream), which seems appropriate as they begin talking about "Pop Waits," the clown rock opera they're currently developing around a conversation between Iggy Pop and Tom Waits in the 2003 film "Coffee and Cigarettes." Though that was the initial idea, plans for the show quickly evolved into something else: a kind of surrealist manifestation of Brennan and White's relationship with one another. A "Pop Waits" love story.
Chicago Tonight: So "Pop Waits" came out of the Iggy Pop and Tom Waits scene in "Coffee and Cigarettes." How did you come to see that scene as a full length show?
Tom Waits and Iggy Pop in "Coffee and Cigarettes," 2003
---
Malic White: We were both fascinated by their dynamic and watching it you can see a classic clown status relationship in the conversation they're having. And actually the original idea was to just stage that scene. And we talked about that about a year ago. And then it turned into, maybe there's more to this show. Maybe there's music. Maybe it's a rock musical. Maybe it's a story about us, where we are occasionally stepping into these rock star personas.
Molly, who's sprawled on a purple yoga mat, points to four white cards on the floor around her: thoughts for the direction of "Pop Waits." They read "music," "answer to love story," "survival (thrival)" and "depression."
Molly Brennan: These are the new ideas for what I see emerging in the work. The big thing for me is – I'm not a big consumer of romantic comedies. I usually find love stories to be the least compelling kinds of stories. And in this reading of our script, we are in a relationship with each other and we have a relationship to the music. And the kind of love story that's revealing makes me feel like, "Oh! I'd like to watch this love story." And then also, both of us live with depression. And so, it's this idea of how to build a way of moving through the world that allows you to survive and thrive and the conscious choice of who your idols are and who your heroes are.
CT: How have Tom Waits and Iggy Pop supported these huge building blocks of depression and love?
MW: The bare bones of it is, it's a story about how to like yourself. And we obviously like each other very much and sometimes have a hard time liking ourselves. For me and my relationship to Iggy Pop, I want to become bigger and he's a different guy in interviews than he is onstage. When he's onstage, he's 100 percent instinct, like he is totally in "clown." And that is a place I'd like to get to in the show and in my life.

"It's a story about how to like yourself."
                       –Malic White on "Pop Waits"
---
MB: And Tom Waits has this kind of constant theatricality. His public persona, as I've seen it, does not change between interviews and performance. He makes up these wonderful stories onstage, he makes up these wonderful stories to people who are trying to ask him serious questions about his life. Everything is this theatricality and this building of character, which is something I do. And actually, there's a dialogue in the ["Pop Waits"] script where Malic names it and says about me that I treat everyone like an audience. And I do. The idea of being myself onstage is so uninteresting to me. I'm like, why would anybody be interested in me? Like – here's this hat! Or, I can stand on my head for a really long time! Everything is showing the things I can do as opposed to, like, the kind of Neo-Futurist aesthetic of being yourself onstage. My comfort zone is to put the costume on. One of the things I say all the time is: costume is 80 percent of your work. And the rest of it is the sound cue and the lights and all I have to do is walk out onstage. Whereas, when I watch Malic perform, there's this stripping down. Like, if you see "Too Much Light," there's very few clothes.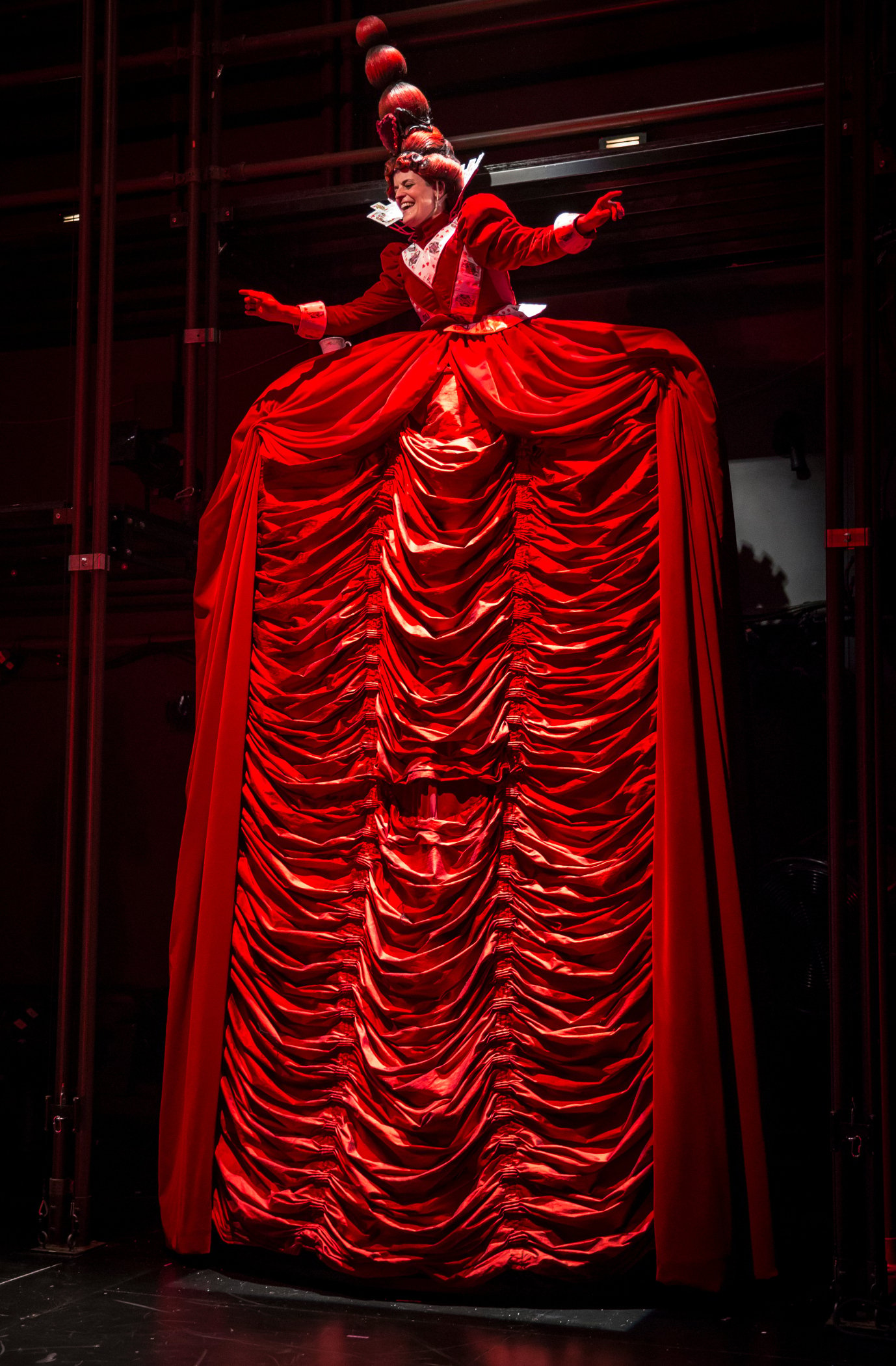 Molly Brennan as the Red Queen In Lookingglass Alice. (Liz Lauren)
MW: [Laughing] Very few clothes??
MB: Well you're always bare arms, showing yourself physically, showing yourself emotionally and it's compelling and wonderful. But when I think about myself doing that, I'm always like, no, no, no. Put this red nose on.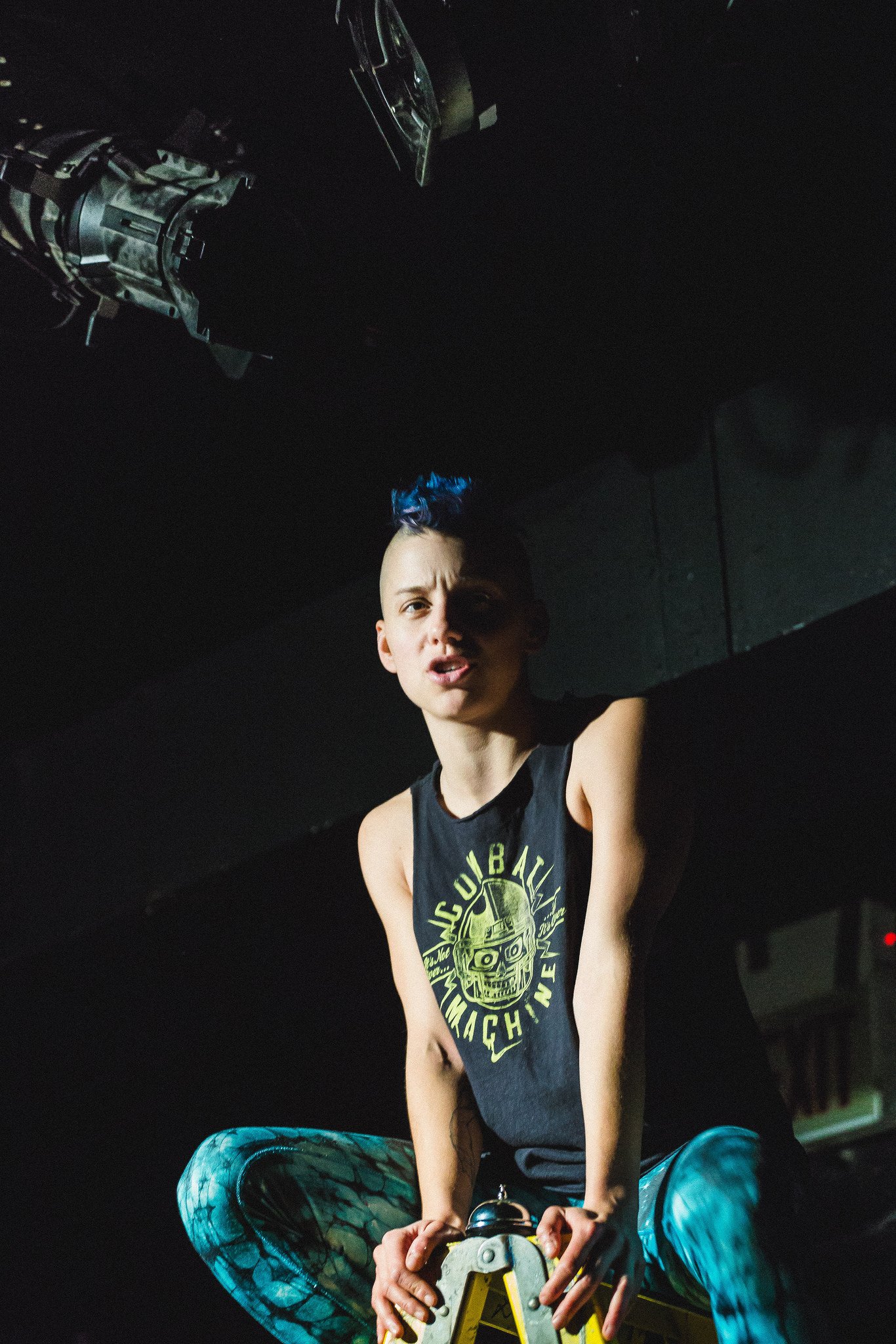 Malic White performing at Neo-Futurists "Too Much Light Makes the Baby Go Blind." (Joe Mazza)
MW: And I think there's something interesting about this show and the icons we've chosen in that they are straight, white dudes. And we've been talking about that a lot – what does it mean for us to be doing that. Why do we idolize those people? Why do we see them as powerful? They are both, of course, incredible performers. But it's funny that we gravitate towards that power that comes from talent, but also comes from a position in the world where one is entitled to share that part of themselves.
CT: You both speak very openly about diversified casting, both from a racial and gendered perspective. You were saying you've kept that at the top of your mind when casting for "Pop Waits" – but how do you see Chicago's mainstages dealing with those same casting choices?
MB: This idea that you can't change the gender of someone onstage is ridiculous to me. In ["Pop Waits"] we're going to be playing people who I assume have penises – I've never actually seen these fellas naked. For instance, I was talking about plans for our show to a Chicago artistic director and he was like: Oh, who are you gonna get to play Tom Waits? And was like: well, I'm gonna play Tom Waits. And he laughed and put his hand on my shoulder, and I was like – [making a very serious face] I'm gonna play Tom Waits.
CT: Malic, when you first starting coming back to theater after college, you were told you were too androgynous-looking for parts you were auditioning for. What did that mean to you?
MW: It means that they wanted someone who looked like other people they knew and saw onstage. In my first experience auditioning after college, casting directors met me and didn't realize I was an actor. They just saw a person with an androgynous presentation because that's who I am and that's my daily life. But when I'm acting, I can act whatever you want. I can play the ingénue – put a wig on me. I can play the boy. But at first it was hard for them to look past that.
CT: Malic, you identify by the pronoun "they" – something Sean Graney was really excited about when talking about your role as St. Jimmy in Hypocrites' current production of "American Idiot." Why was that identifier a good fit for you and how recently did you make that decision?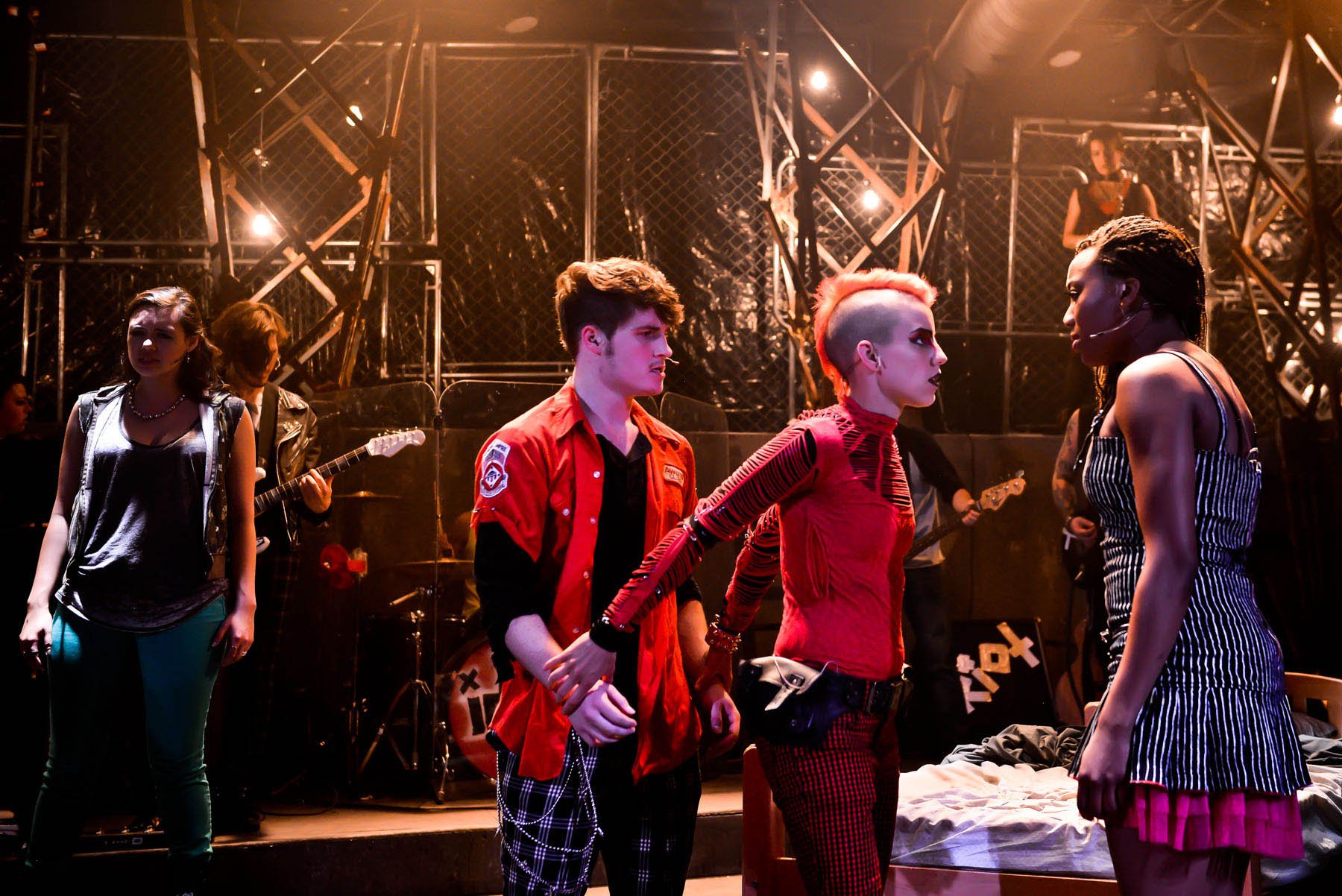 Malic White as St. Jimmy in the Hypocrites' "American Idiot." (Evan Hanover)
MW: I've identified as all kinds of things. One thing that a lot of people fear when coming out is the reaction you get from others who say that we're going through a phase or just experimenting. And that experimenting is looked at as juvenile or like a process with an end to it, where you figure out what you are. And I don't believe that to be true for myself. I think a lot of us are just taught that experimenting is something you do and then you're done. And I'm not done.
---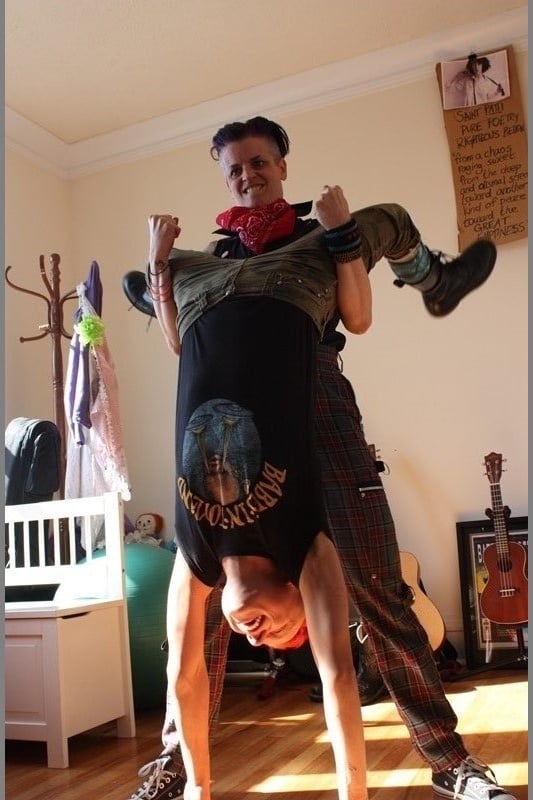 Feats of strength at Malic and Molly's Humboldt Park apartment. (Chloe Riley)
CT: Do either of you ever receive pushback for being so outspoken about your stances on some of these issues, especially concerning their relevance within Chicago's theater scene? Molly, you made an especially volatile post on Chicago Tribune theater critic Chris Jones' Facebook page, following a review in which he criticized Steppenwolf Theatre's show, "This is Modern Art," a play about graffiti aimed at high school students. Did you worry about the consequences of posting what you did?
MB: A lot of people were worried for me. Here's the thing: In a situation like that – a piece of work that was very important for a lot of reasons – I feel, this is serious and I'm going to say f*** because it's f***ing serious. This has to change, not slowly, but right now. You need to know the difference between tagging and street art. You need to know how many of us feel like a McDonald's ad is far more offensive than someone plastering a beautiful piece of work up on an abandoned building. Your idea of what is acceptable and what is valuable is not the idea of every person. And, in terms of worrying about my career, being an actor is really hard. As an entertainer and as a person who feels it's important to stick up for other people and to lend a voice to people who maybe aren't being heard, that's gonna charge my work.
Catch Malic White in The Hypocrites' "American Idiot" through Oct. 25. "Pop Waits" premieres at the Neo-Futurists Feb. 4.