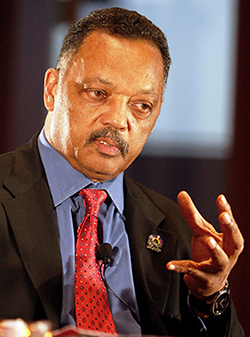 The Rev. Jesse Jackson, Sr. reflects on the 50th anniversary of the Civil Rights Act of 1964, the 30th anniversary of his historic run for president, and gives us an update on his son, former Congressman Jesse Jackson, Jr. 
The Civil Rights Act of 1964 – started under President John F. Kennedy in 1963 and approved by Congress under President Lyndon B. Johnson – was the defining legislation of the Civil Rights Movement. This act achieved the political agenda of civil equality many Civil Rights leaders, like Dr. Martin Luther King, Jr., advocated for.
Jackson rose among the political ranks alongside many other leaders in this movement. He marched alongside Dr. King and created organizations dedicated to advocating for minority rights. He also experienced his share of scandal from his son's indictment to his candid comments on President Barack Obama.
While his work as the founding member of Rainbow PUSH Coalition was instrumental in the progress of African-Americans, he continues to push for action against social injustice – most recently the case surrounding Trayvon Martin. 
View a timeline of Rev. Jackson Sr. career below.
--Timeline by Taurean Small