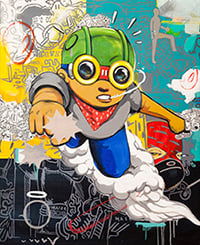 You might have seen the name Hebru Brantley in the press last year. The Chicago artist made waves with just one sale when Jay-Z bought a painting of his at Miami's Art Basel expo. The rapper and entrepreneur paid $20,000 to add Everyone's Scared to his collection.
Brantley is back in his hometown with a solo show that explores emotion in human experience. Optimism and pessimism share the stage in a parade of images that brings the outdoors in. It's an immersive experience with multi-media murals – he's been known to paint with coffee and tea – and even a parade "float" overhead.
Inspired by street art pioneers like Keith Haring and Jean Michel Basquiat, Bronzeville native Hebru Brantley has crafted a narrative that explores his personal and cultural memory of growing up in Chicago.
The work is energetic and fun, but there's also a serious facet. The man-child at the center of the painting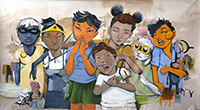 Fade Resistant seeks peace in a chaotic world. Other works offer mixed messages in a whirling blend of paint and ink.
The exhibition is called Hebru Brantley: Parade Day Rain.  It just opened at the Chicago Cultural Center. It is free and runs through September 23.
View a slideshow.