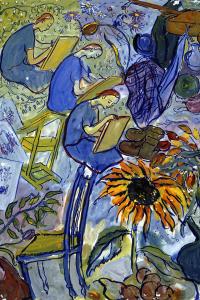 A young Jewish artist named Charlotte Salomon illustrated her family life in pre-war Germany and in Nazi-occupied France. This week her lyrical, moving works make a rare visit to the Chicago area.
Charlotte Salomon's art is a fantastic expression of her own personal drama. She made more than 1,000 autobiographical paintings while hiding in a hotel in France for two years. She called the body of work "Leben? oder Theater?" (Life? or Theater?) – a sort of "To be or not to be?" query posed by a creative individual who saw destruction everywhere.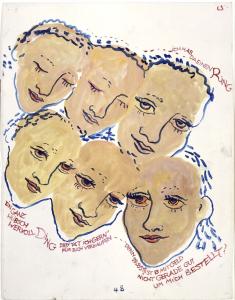 Her engaging pictures are structured like a play complete with scenes and recurring characters. Woven into the operatic story are musical notes and poetry, indications that Charlotte Salomon came from a cultured family. Salomon painted with gouache in bright primary colors applied with loose, quick strokes. The urgency in the work is surely tied to her precarious existence.
When the Gestapo closed in, she gave the collection to a family friend for safekeeping, telling him: "It is my whole life." In 1943, Charlotte Salomon and her new husband and their unborn child perished in the horrors of Auschwitz.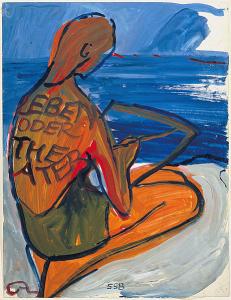 There have been plays and even a film made of her life, but I'd never heard of the artist before getting a press release from the Illinois Holocaust Museum. The exhibition of nearly 300 paintings – usually on display at the Jewish Historical Museum in Amsterdam – is a must-see for lovers of art and history, a testament to a creative life and artistic vision that ended too soon.
Charlotte Salomon: Life? Or Theater? opens Thursday, June 19 at the Illinois Holocaust Museum and Education Center in Skokie, Illinois and runs through Sept. 21.
All images copyright Charlotte Salomon Foundation, Netherlands.
---
View a slideshow of Charlotte Salomon's work.