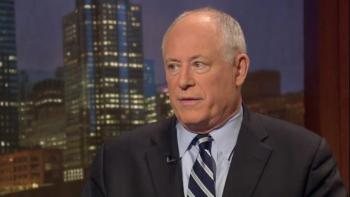 Today, public employee unions are speaking out about the law Gov. Pat Quinn signed that would change two of Chicago's pension systems. Some are loaded for a fight and promising legal action. Other unions are supporting the move that would cut employee benefits and come with a $250 million price tag over the next five years. What's behind the growing rift?
The American Federation of State, County, and Municipal Employees say they are preparing to sue the city because the pension law, they believe, represents an unconstitutional diminishment of retiree benefits.
AFSCME is one of three unions that did not agree with the bill, however, 28 unions did agree.
One of them, the Service Employees International Union, spoke to us today about why the union took a different tack and struck an accord with Mayor Rahm Emanuel, even though the new law forces their members to commit more of their paycheck, and scales back annual retiree cost of living raises.
That union believes that another credit rating downgrade for the city would've meant financial peril, which would have equaled worse cuts for union workers. 
"We were at the point in time when failure to act would only make it worse," SEIU Local 73 Secretary Treasurer Matt Brandon said. "We were out of time. Instead, we secured a benefit for our members now and in the future, and we will work to better that benefit," ostensibly when the municipal and laborers' pension funds are in better shape.
---
Web Extra: Watch an extended interview with Steve Koch, City of Chicago Deputy Mayor on Chicago pension reform.
---
Meanwhile, AFSCME says there should have been a different way out.
 
"There really were no negotiations," said Anders Lindall of AFSCME. "The idea that everything was worked out over the table is overstating it. So now, we go to the courts."
But SEIU opposes the legal route AFSCME is proposing to take.
"It's ridiculous to spend millions of dollars in member fees on multiple lawsuits," said Brandon, citing the already active lawsuit against the state pension reform law that is making its way through Springfield court.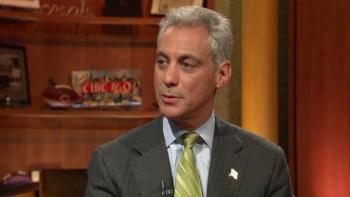 Brandon says he is not bothered by the mayor's recent comments to take a hike in property taxes off the table to pay the first year's $50 million pension costs. Officials in the mayor's office say they have reliable sources of revenue to use instead.
The state authorized the city to hike a tax on both cellphones and landlines by $1.50 that would bring in, probably not coincidentally, around $50 million. Chicago Deputy Mayor Steve Koch says the new phone tax, or 9-1-1 tax as it is also known because the revenue goes to fund the city's 9-1-1 center, could be part of a revenue mix. But any new revenue has to meet certain criteria
 
"It's got to be sustainable, it's got to be legal," said Koch. "Within those parameters, we're open to all the different revenue options that are out there."
 
Koch says that politics did not play a role in the mayor's decision to remove a property tax hike to pay the pension costs this year.
 
"We've been looking for [an] alternative since the beginning," Koch said. "It's become clear that with all the tools we have available now, we can pay the bill in the first year and get that done."
 
Koch also says the administration is now working on a fix for the police and fire pension systems, which are in even worse shape, and that a solution would likely involve banding together with suburban and downstate municipalities who have police and fire pension problems of their own.
 
 The philosophical rift between public employee unions is also reflected in a political rift. The Chicago Teachers Union has opposed Mayor Emanuel's reelection, and AFSCME has been a harsh critic. Meanwhile, SEIU donated $25,000 to the mayor's reelection campaign. Brandon told me his union felt the mayor had earned his stripes with SEIU by taking a political gamble for advocating property tax hikes in an election year.
"We saw he was serious about trying to fix this problem, he put his political career on the line," said Brandon.
It also helps, Brandon says, that the city has hired more of SEIU members in recent years – who represent city employees like detention workers and crossing guards. With the closings of schools and mental health clinics, many members of the teachers union and of AFSCME have been laid off.