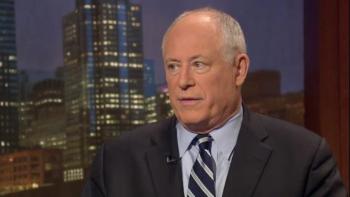 Democratic incumbent Pat Quinn and Republican Challenger Bruce Rauner agreed on one thing at Friday's appearance before a giant crowd of suburban and downstate teachers union members.
"You are the most important members of our society," Rauner said.
Equally as effusive, Quinn told the gathering that they "are the heart and soul of public education in Illinois."
But the two agreed on almost nothing else as they quickly began sparring with each other over a host of education issues.
"My opponent in this race has broken his promise to you, to voters, taxpayers, schoolchildren," said Rauner. "Years ago, he said he wouldn't change your pension, and he did. He cut education funding when he didn't have to."
"The biggest threat to public education in Illinois is my opponent," countered Quinn, at one point, likening Rauner to a 'virus.' "He said he believes teachers are overpaid."
Illinois Education Association President Cinda Klickna moderated the discussion that addressed education funding, pension reform, the charter school debate, and the role of public employee unions. It was decidedly not a friendly environment for Rauner, with members wary of his hard line on public sector unions and criticism of "corrupt union bosses."
At one point, Klickna asked Rauner who he meant when he said 'union bosses.'
"One's you," he told her, to the shock of those in attendance, later following up that she did a fantastic job for her union. That got a standing ovation.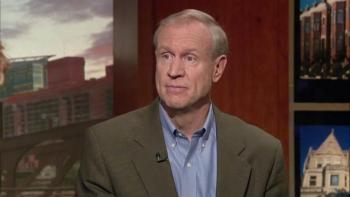 Klickna also asked Rauner why he calls it 'bribery' when unions give to political campaigns. Rauner, too, has given tens of thousands to public officials. "Isn't that bribery too, then?" she asked.
"I've never donated to a politician while being on the other side of a contract negotiation. That's not right," Rauner said, arguing that public sector unions are trying to buy influence while they seek favorable terms for their workers, at taxpayer expense.
The candidates were also asked whether they supported more charter schools, a very controversial topic among union members.
"Absolutely not," said Quinn. Rauner said he does.
"I believe parents should have options; charters can be part of that. But it's not the only solution," he said.
The most heated comments came during a portion of the debate on teacher pensions and collective bargaining rights. Gov. Quinn repeatedly hit Rauner for his ties to Stuart Levine, imploring him to return all of the fees his wealth management firm GTCR got from handling teacher pension investments while employing the convicted influence-peddler. Levine was a member of the Teachers' Retirement System board at the time and voted to give pension business to Rauner's firm.
Rauner defended his firm's handling of teacher pension investments, saying they had "delivered fantastic results."
"That fund returned 25 percent for your pensions. I am honored to have worked for you and done a heck of a job for your retirement and saved taxpayers millions of dollars," he said.
But Rauner caused confusion among attendees, and then reporters at a post-event press conference, when trying to explain his opposition to the recently passed pension reform plan for state workers and retirees.
"I am the one candidate in this race who does not want to change the deal for existing retirees or existing accrued benefits," he said. "What I want to do is create a second pension plan, in addition to the existing pension plan, and that should be a defined contribution, 401K-style plan."
Later, when asked to clarify, Rauner said that pension benefits would not change at all for current retirees. They would keep the 3 percent compounded cost of living raises that were taken away in the pension reform bill. The same would hold true for current workers. They would keep all benefits accrued up to this point in their pension, including, apparently, the yearly 3 percent compounded cost of living raise on that portion of their income in retirement.
But current workers, under Rauner's plan, would eventually have their pensions frozen and switch over to a 401K-type plan. Rauner did not explain how the pension system would be able to meet its obligations under his plan without newer, younger workers paying into it. Many pension experts and lawmakers have called the compounded COLA the main driver of the state's $100 billion unfunded liability.
Quinn said that he "in no way," would support a 401K-type system.
"I believe in having a pension system. My opponent wants to wreck that system, take a sledgehammer to it," he said.
Quinn acknowledged the anger union members have felt over his signing of pension reform that cut their benefits.
"I know you disagree with me on the pension issue. But please, don't compare me to the Almighty, compare me to the alternative over here," he said.
Quinn also compared Rauner to Wisconsin Gov. Scott Walker, saying he wanted to bust unions.
"Limiting collective bargaining is not part of my agenda," countered Rauner.
Watch the full video from the Illinois Education Association Conference: