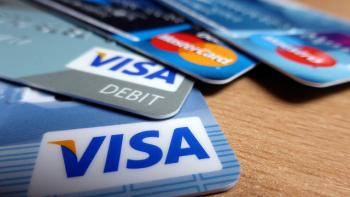 As of this month, the average household has more than $15,000 in credit card debt. While many people shied away from taking on debt after the housing market crash and great recession that followed, a local organization is actually helping people get credit cards -- all in the name of building their credit.
Christine Wilson, 37, works as a Computer Numerical Control operator using numbers to manufacture car parts.
"I love it. It's challenging, it's fast-paced, it's interesting. You're not doing the same thing all day long. You're constantly moving. It's wonderful," she said.
But there are three other numbers that are really important to her.
"As of right now, six months later, I have a 730 for a credit score," said Wilson. "I had no credit. Not bad credit, just none."
Wilson is the mother of three and grandmother of two. She had a hard time finding a job -- let alone good credit -- after being in prison for eight years on a drug charge. She received training for her new job at the Jane Addams Resource Corporation in Ravenswood.
"It's exciting. I'm excited about my life right now," said Wilson. "When I first came here, I was depressed. I was having a hard time, I was struggling. Just coming home after so long, reconnecting with my family, trying to find a job."
This is where she also found the Twin Accounts program -- offered by the nonprofit Local Initiatives Support Corporation, or LISC. It's designed to help people with bad or no credit build their credit records, and achieve a favorable credit score.
"Anything over 650, you're in the zone. Certainly, it's better if you can get it over 700, 720. But, at 650, your options really are different. No one's going to ask you when you turn on your cell phone or utilities to leave a deposit," said Ricki Lowitz, Director of Economic Opportunities at LISC, who developed the program and says it's helped thousands of people in the Chicago area.
One important area of the program is financial literacy; counselors find many clients are fearful of using credit.
Arris Tolbert was one of them.
"I was afraid, culturally, in the African American community, that whole stigma of keeping your money under the mattress and the whole market crash had really shaken me to my core, like should I really trust a bank at this time?" she said.
Watch an extended interview with Tolbert below:
"It's a hard job the counselors do to really address that issue, and say that, in fact, if you really want to be part of the middle class, you need good credit, not just savings," said Lowitz. "And if you really want to get to financial inclusion in this country, I think we're going to have to help people understand that credit is critical."
Here's how it works: Clients, like Christine and Arris, borrow $300 from the Twin Accounts loan servicer, Justine Petersen. But, instead of getting cash in hand, the money goes into a savings account. Over the next year, clients make monthly payments of $25 to repay the loan. At the end of the year, the $300 goes on a secured credit card, so clients can keep building credit. And, Twin Accounts matches the money, as long as payments were made on-time each and every month.
"Last month, 87 people were in it and owed a payment, and 98 percent of people paid on time," said Lowitz.
The $300 match was a big incentive for 36-year-old Nailah Freeman to sign up.
"I'm looking forward to my credit being repaired. That's what I'm looking forward to, to be able to not feel held hostage by creditors and always thinking about bills," said Freeman.
Lowitz explains paying on time is one of the lessons of credit. The other is continuing to use that credit after completing the program.
"We want to make sure that they used it that month, because a lot of people feel that if they have credit cards that they're not using, that they're doing a good thing," said Lowitz. "They're not really building any credit; just having it doesn't matter."
Clients are also taught to pay off balances and only spend 30 percent of their credit limit, or less.
Lowitz explains the majority of Twin Accounts participants are good money managers, but because they have poor credit they pay more to borrow money.
For example, on a $10,000, five-year car loan, a person with a low credit score of 300-600 would end up paying a 25 percent interest rate. Someone with excellent credit of 661-850 would pay only a 5 percent interest rate. The difference between the two rates over the same loan is more than $6,200. See the chart below for more details.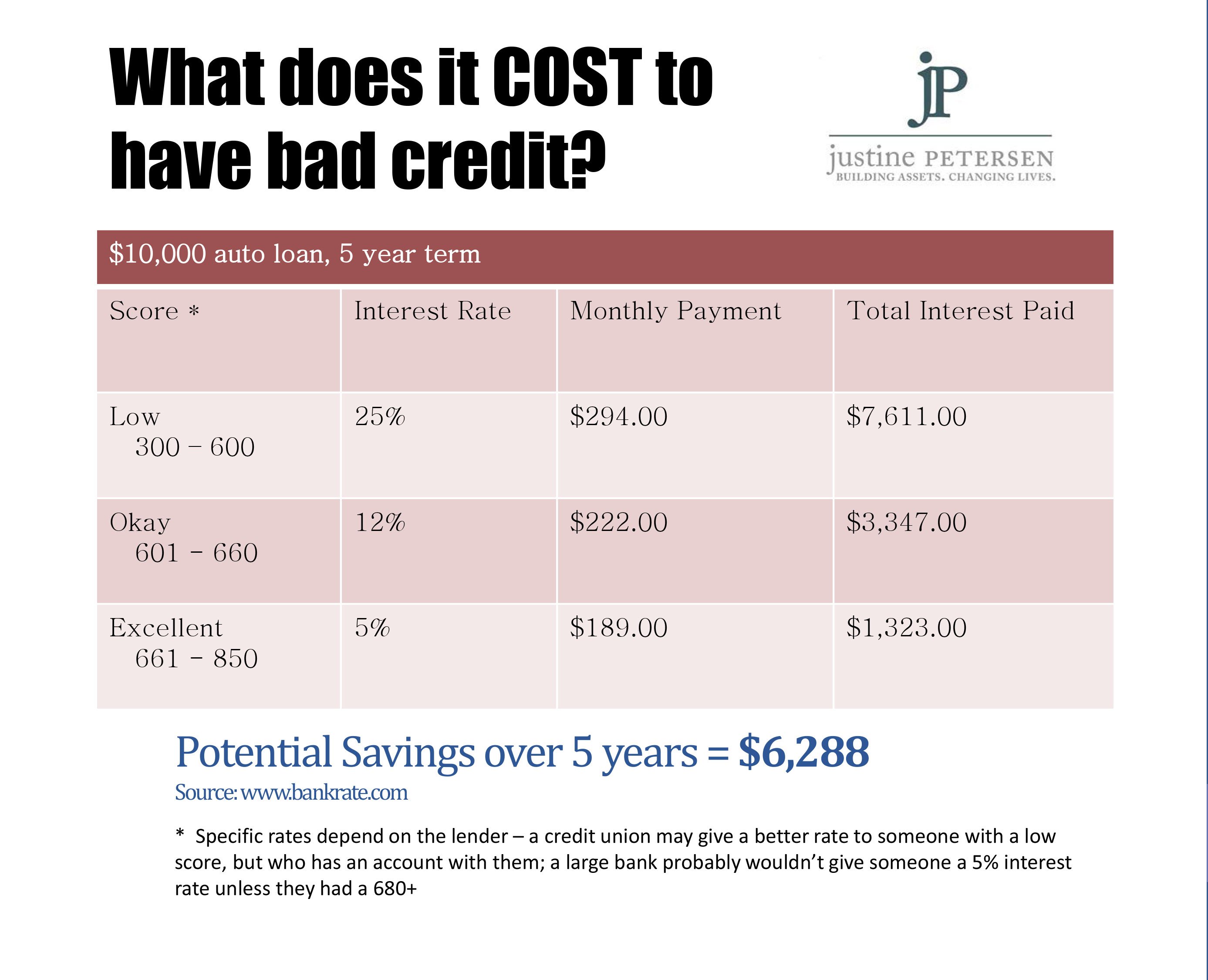 For Wilson, those three little numbers are more than just a credit score -- they're a new lease on life.
"I can actually find a nice apartment for me and my children rather than be forced to live in a neighborhood that wouldn't be as suitable because they do the credit checks," she said. "I was scared. But now, I feel like I'm kicking life in the tail. I've taken off. I'm so excited, and I'm not done yet."
Wilson now has a five-year financial plan. She is buying a car soon, and in five years, she wants to buy a house.
Before clients join Twin Accounts, financial counselors go over their budgets with them to be sure that they can afford the additional $25 monthly expense, and if not, they help them find ways to improve their budgets.
Lowitz explains that many clients aren't necessarily poor, but they're paying more for everything because of their bad credit. Later on, once they do have those credit cards, they're advised to only use them for items already in their budget -- like a cell phone bill -- then pay off the balance monthly to avoid paying interest charges.
A report released this month by Asset Funders Network and the Citi Foundation called "The Power of Credit Building" outlines the importance of credit and its ability to help low low-income individuals take control of their financial lives.