The fiscal cracks may be turning into fissures as the state government approaches a fifth month without a budget. A major ratings agency on Monday dealt a blow to Illinois as a result of the inaction in Springfield. Has it emboldened either side to get off the sidelines and work together on a solution?
The Fitch Ratings agency has downgraded Illinois' debt from A- to BBB + and says it's a direct result of the budget fighting that's been going on for more than four months. In its statement, Fitch said the move:
"…reflects the deterioration of the state's financial flexibility as its budget stalemate continues deep into the current fiscal year. With the national economic expansion now extending into a sixth year, Illinois has failed to capitalize on economic growth to restore flexibility utilized during the last recession or to find a solution to its chronic mismatch of revenues and expenditures. Once again, the state has displayed an unwillingness to address numerous fiscal challenges, which are now again increasing in magnitude as a result."
But there are no signs today that this is moving either side to the negotiating table. In fact they are using it as ammo to defend their positions. The governor in response said in a statement: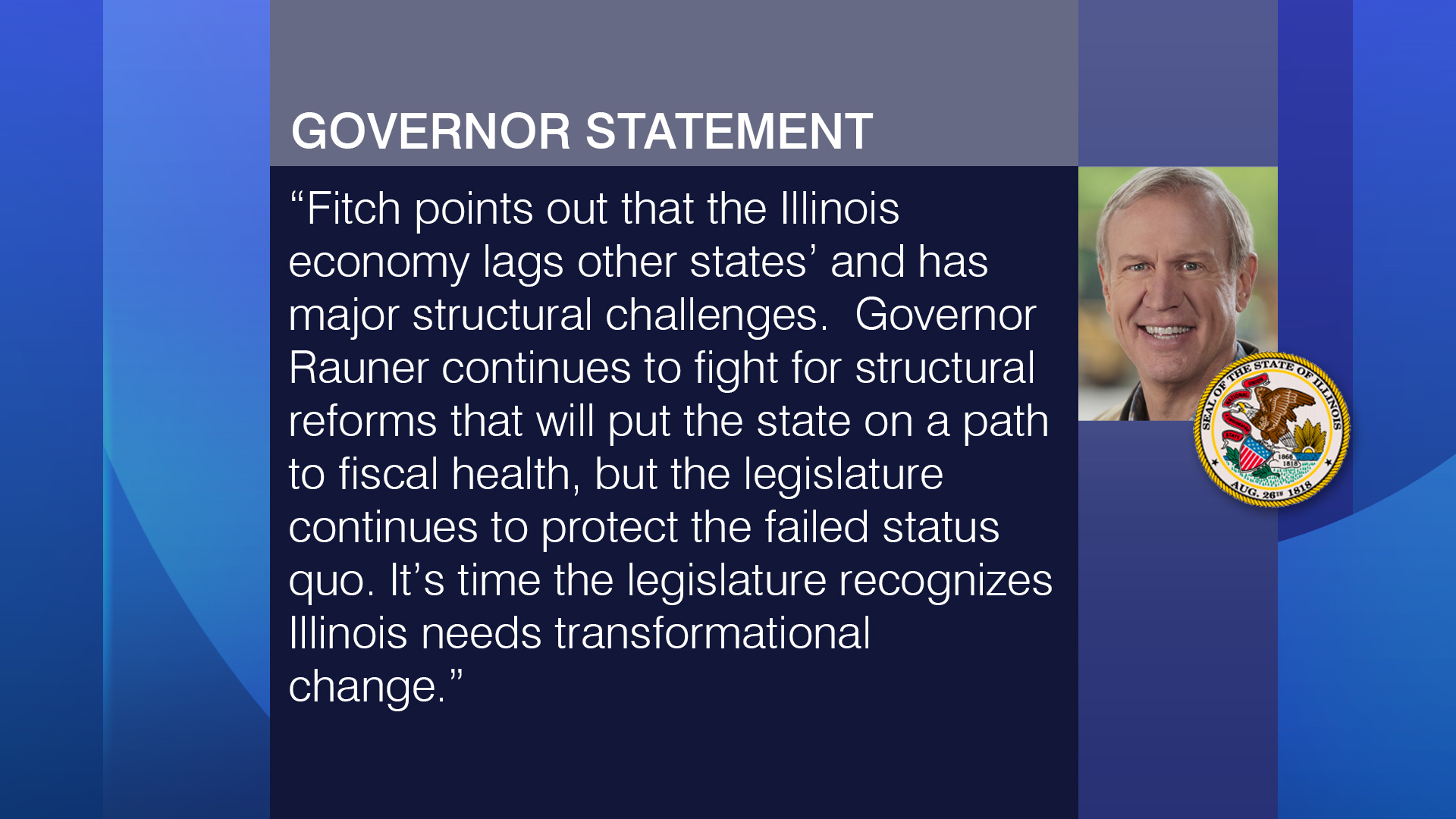 But that response didn't satisfy House Speaker Michael Madigan, who said: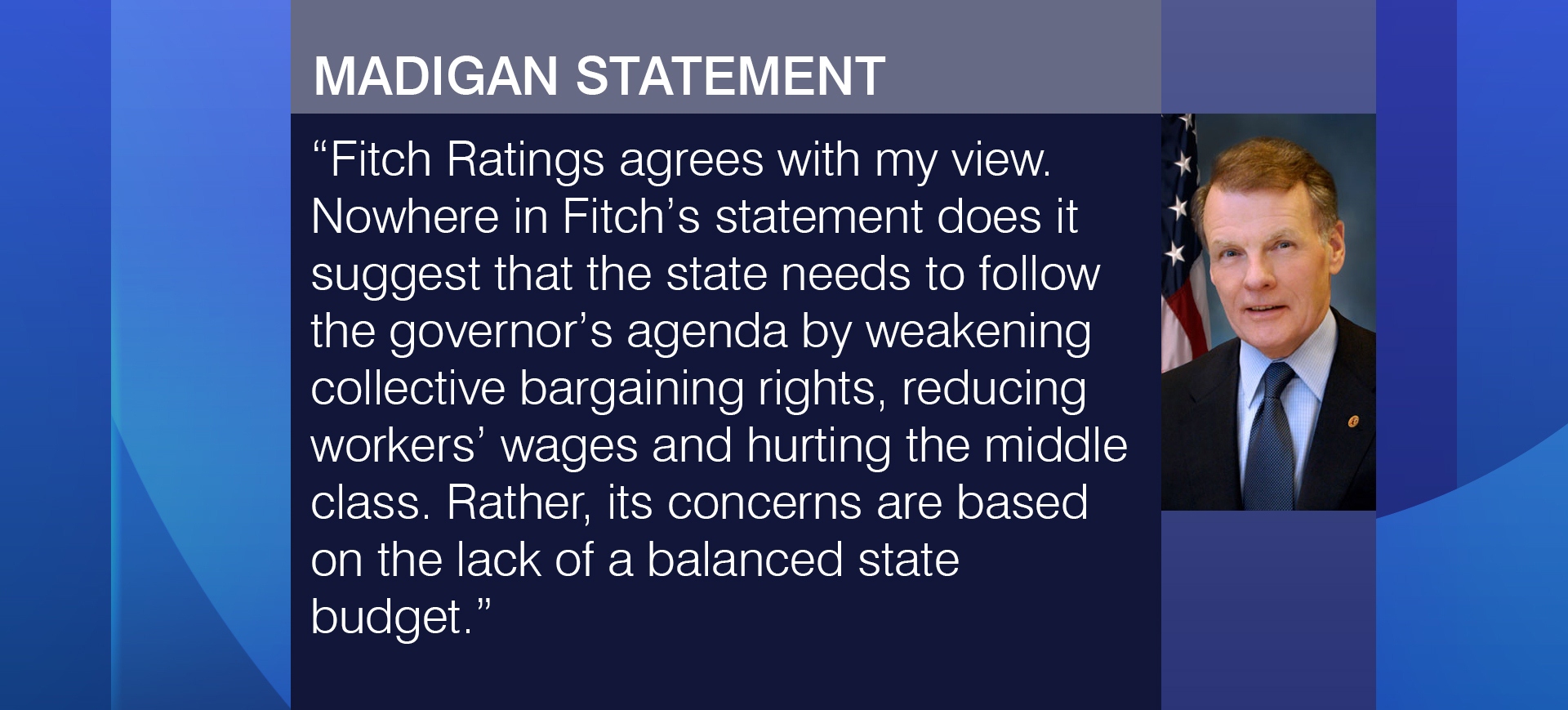 The news comes amid signs that Gov. Rauner is losing support for some of the union-weakening reforms he's seeking. Former Gov. Jim Edgar made waves last week for reportedly saying he felt the governor should stop holding the state budget hostage to those issues and focus specifically on a budget. Rauner was at an event at the Hilton and Towers this afternoon and when approached by reporters, did not answer any questions.
There were also reports that one of his top lieutenants—the  person he picked to head the state's comptroller's office, Leslie Munger—had also broke with him and said that he should abandon the union issues and pass a budget.
Today, she said that that quote was misreported. She and another top GOP official came to the governor's defense.
"A third of the agencies are down to one month left or less of reserves. That's extremely frightening."

– Wendy LaBoe, United Way Chicago CEO
"I think there are solutions, but we need two sides talking," Munger said. "But right now we don't have two sides talking, and I would put more blame on the legislature because they started with a budget that was $4 billion overspent."
"He wants these structural reforms, and he's laid them out: redistricting, tort reform, term limits, workers comp, property tax relief," said Illinois GOP chairman Tim Schneider. "If he gets those, we'll have this budget done in a short period of time."
The list of those affected by the budget stalemate grows as the impasse drags on. We're told university presidents are now meeting with lawmakers because they're running out of reserves.
And a new study of 500 social service agencies by the United Way says that 84 percent of those providers have had to cut services as the budget impasse has dragged on because they simply don't have the money anymore. It's just one of a few frightening numbers.
"About a quarter of our agencies have already tapped lines of credit, 60 percent of them are looking at debt of $50,000 or more," said Wendy LaBoe, UnitedWay Chicago's CEO. "A third of the agencies are down to one month left or less of reserves. That's extremely frightening."
Both chambers return to action tomorrow in Springfield. Not much is scheduled in the Senate. House committees are set to take up a few smaller items, but no budget solution on the horizon. The governor has called on Democrats to use their supermajority to pass their own budget if they won't agree to his asks, but they will return tomorrow one short of a supermajority. The death of State Rep. Esther Golar has left an empty seat. Democratic committeemen on the South Side will convene tomorrow night to vote for her replacement.
If nothing happens tomorrow, the next scheduled session day isn't until mid-November.