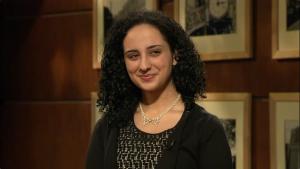 Stevenson High School senior Neli Farahmandpour took advantage of an opportunity afforded to 17-year-olds for the first time in the state by casting a ballot in the March Primary Election.
Voting for the first time was especially memorable for Farahmandpour because she testified in Springfield to the Senate Executive Committee in order to help get a law passed allowing 17-year-olds to vote in the primary election.
While voter turnout in the primary was historically low, Farahmandpour elected to cast her ballot on Election Day prior to heading to school.
"It was an interesting experience," she said. "There weren't a lot of people there. I wish I would've seen more people, and I'm sure more came throughout the day."
Voting in the primary was especially exciting for Farahmandpour because she voted Republican.
"On the Democratic ballot, there wasn't much competition except for casting a vote for Lake County Sheriff," she said. "There was [competition] for the Republican ballot, so I was actually doing research before the vote for each candidate."
That research included reading Daily Herald articles about each of the candidates, attending a debate with three of the Republican gubernatorial candidates – Bruce Rauner did not attend—and speaking with others.
"I talked to Mr. [Andrew] Conneen. I talked to my father, who is also involved in politics. I also talked to a few of my friends," she said. "The reason I like doing that is not to get other opinions and go with it, but to get their point of view. If you see a candidate that you like, you only see the things you like about them. I think talking to other people kind of ensures you get a different point of view of each candidate."
While most voters were focused on the results of the election, Farahmandpour was more focused on voter turnout. Farahmandpour said she believed the low voter turnout was due to a lack of competitive Democratic races in the state.
"I think a lot of people who are Democrats didn't see much competition on the ballot, so not a lot of them voted," she said. "A lot of people at my school voted. That's what mattered to me."
Voting in the primary has paved the way for future elections for Farahmandpour.
"I think what it's done for me is to get me in to the habit of voting. It was my first experience and I loved it, and it got me in the habit of researching candidates," she said. "A lot of Americans are becoming more independent and not affiliating with a particular party. I think it's important to look at the facts first and research. And I think that's what the primary did. It gave me the opportunity to practice researching."