Chicago Sun-Times Theater Critic Hedy Weiss joins us to discuss local shows currently on stage.
---
Northlight Theatre looks to share a piece of Irish culture through Christian O'Reilly's Chapatti. Set in the populous town of Dublin, this play tells the story of two lonely animal-lovers looking for romance. These two middle-aged leads dwell in their disappointments and old memories until they meet each other. When Dan and his dog Chapatti share an unexpected spark with Betty and her many cats, these once cold-hearted characters begin to warm and rediscover the importance of human companionship. Chapatti runs for 90 minutes with no intermission and will be performed through April 13. Tickets cost between $15 and $68.
Northlight Theatre
9501 Skokie Blvd.
Skokie, IL 60077
(847) 673-6300  
Venus in Fur marries risqué adult themes with laugh-out-loud comedy in the Goodman Theatre's production of the play. The story follows a rising actress as she deals with a power struggle with an entitled play director. Vanda makes a lasting impression on director Thomas after she arrives several hours late to her audition. Her performance, however, turns the tides. The production displays themes of dominance between not only a boss and employee, but a man and woman. Venus is Fur runs for 1 hour and 35 minutes with no intermission and will be performed through April 13. Tickets cost between $27 and $76.
Goodman Theatre
170 N. Dearborn St.
Chicago, IL 60601
(312) 443-3800
One of theater's most celebrated plays makes its run in Aurora, Ill. at the Paramount Theatre. RENT tells the classic tale of eight young artists living in the Alphabet City neighborhood of Manhattan. Their stories differ in many ways but they're all connected through their fight to stay strong through HIV. Theater lovers will enjoy these characters' journeys to friendship and love while fans introduced to RENT from the mainstream film will love the myriad of musical styles and dance numbers. The play will run through April 6. Tickets cost $49.
The Paramount Theatre
23 East Galena Blvd.
Aurora, IL 60506
(630) 896-6666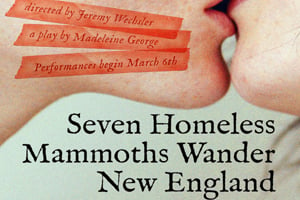 Seven Homeless Mammoths Wander New England
The progressive stage play Seven Homeless Mammoths Wander New England looks to bring warmth to Chicago's spring season at the Theater Wit. In this suggestive comedy, Deen Wreen, the female lead, explores her complicated relationship with her young girlfriend, all while fighting resistance from locals regarding campus renovations dealing with an ex who has returned to live with her. Deen's actions examine the relationships we build and mirror the choices we make. Theater-goers looking for a deep story will enjoy this 2-hour and 15-minute production. The play will run through April 27. Tickets cost $30.
Theater Wit
1229 W. Belmont Ave.
Chicago, IL 60657
(773) 975-8150
---
Hedy Weiss reviews Dessa Rose and The Playboy of the Western World in the following web extra video review: