Love him or not, people want to know: what was Sting like? Honestly, I was in King Sting's galaxy for exactly 14 minutes last Thursday in a room with a lot of other people. If you want a real take on his personality, you should ask someone who's known him for at least 15 minutes.
That said, Sting was warm, friendly and charismatic. He has a heck of a handshake and looks healthy and fit. He was also fidgety and distracted at times. Who can blame him when he resides in an alien world where a parade of strange people asks him similar questions?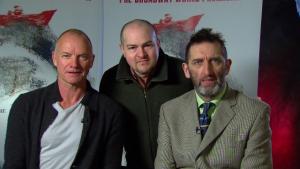 And there's always a wrinkle of the unexpected with these things, despite our best intentions and the efforts of artists to control the message.
The publicists called the day before to tell us that he didn't want to talk about The Police, the hit-making band he led from 1977 - 1986. No problem. I hope when I reach the age of 62, people don't ask me to dwell on what I did when I was 26.
And they asked us to mention the photographs. Please. He loves to talk about the photographs.
They were referring to a stunning set of historical photos of the shipyard at the end of the street where Sting grew up in the north of England. The black-and-white snapshots show immense ships under construction, their hulls towering over nearby houses. The surreal setting inspired Sting's upcoming musical The Last Ship, which gets its world premiere in June at Chicago's Bank of America Theatre.
I had every intention of asking about these pictures. They're awesome and illustrate the story in a powerful way.
So, first question: "I must ask you about those photos. You literally lived in the shadow of the ship being built at the end of your street, correct?" Sting: "Yes, I did. I did." Then an awkward pause, a shift to the other person being interviewed, and leading actor Jimmy Nail spoke for 30 seconds while Sting scratched his head and looked like he wanted a menu.
Okay, back to my notes for the next topic….
Mind you, none of this was a problem. We got what we wanted and got out without embarrassing anybody. If you don't have your A Game, have a Plan B.
Sting truly became animated when we asked him about the riskiness of the venture. He seemed to appreciate our recognition that he isn't taking the easy way out on his latest project. He said: "I'm sticking my neck out. There's no wriggling out. My head is firmly in the noose, and I wouldn't have it any other way."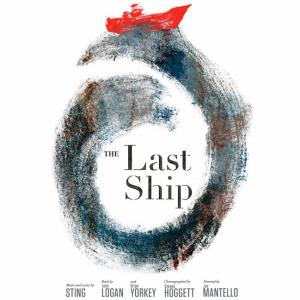 That quote became the first sound bite and set the tone for a Chicago Tonight feature that was ultimately about artistic risk-taking – and we caught a genuine glimpse of the proud and savvy talent behind The Last Ship.
Maybe next time he'll sing a bit of Roxanne for us.