On Friday, Grammy Award-winning vocalist Sting introduced his new musical, The Last Ship, at Broadway Playhouse in Chicago. Located inside Water Tower Place, the 549-seat theater provided an intimate setting for Chicago's inside look at Sting's newest creation.
During the preview, Sting was joined on stage by vocalist Jimmy Nail and arranger/multi-instrumentalist Rob Mathes. Produced by Jeffrey Seller and Kathryn Schenket, the musical opens on Broadway in the fall of 2014.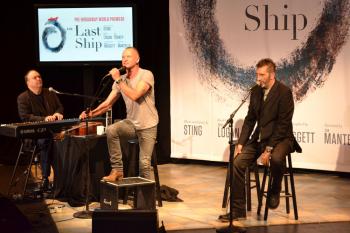 The story is about a man named Gideon Fletcher, a resident of a shipyard town in England, who dreams of a different future for himself than the one he is seemingly destined to live. As the play's composer and lyricist, Sting made it clear during the event that the story is influenced by his own life experiences.
"I was born within the shadow of the shipyard," said Sting. "I watched these men go to work every day, thousands of them would trudge to work, then trudge back."
However, at a young age, he knew he did not want that fate for himself.
"I thought it was my destiny too," he said. "I didn't want to go there. I was terrified of the shipyard."
During the preview, Sting was introduced as "a man who has sold almost 100 million records throughout the world" and "who has won 16 Grammy awards."
After stepping on stage, Sting smiled kindly and corrected the announcer, stating, "17." The audience loved it.
This set the tone for the rest of the performance, which was lighthearted and fun. He sang songs, which included the spirited What Have We Got (watch the performance in the video below), he played guitar, and even laughed along with the crowd when he had to glimpse at his iPad in order to remember some lyrics at one point.
Sting said the songs in the musical represent the end of a very long drought for him, and that he has not written in a good 8-10 years.
Three years ago, he decided to look to his roots for inspiration.
"I thought, what if I went back to the community I come from, a little shipyard town in the north of England and attempt to write a dramatic piece with songs about that ship-building community where I give voice to other people than myself – other points of view," he said.  "As soon as I put pen to paper, these songs started to come out of me like projectile vomiting. I realized that I had been bottling these stories up." View a slideshow of photos from Sting's appearance.