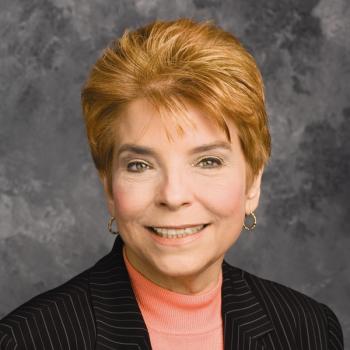 Judy Baar Topinka is running for re-election as Illinois State Comptroller to bring efficiency, transparency and accountability to every corner of government.
In her first term as Comptroller, Judy set a standard for state government transparency, demanded accountability from taxing bodies and fought against new spending and borrowing.
She is running for re-election to finish the job.
Judy regularly talks about what's #centsible through her Twitter account and posts the latest from the campaign trail on Facebook.
TAXPAYER WATCHDOG
Judy was elected Illinois State Comptroller in November, 2010, becoming the first woman in state history to be elected to two Constitutional offices.
She was elected State Treasurer on November 8, 1994 – becoming the first woman in Illinois history to hold this post. She also became the first Republican to be elected State Treasurer in 32 years. Topinka made history again in November 1998, as she won a second term as State Treasurer – becoming the first woman to be re-elected to a statewide office. Winning re-election to a third term as Illinois State Treasurer in 2002, Topinka became the first State Treasurer to win three consecutive terms.
As State Treasurer from 1995-2007, Judy maintained a strong record of fiscal responsibility. During her tenure, the state earned record amounts of income on investments, money that helped to alleviate the tax burden on working families and made state government run more efficiently. Under her leadership, the Treasurer's Office helped create and retain more than 13,000 new jobs through an innovative linked deposits program; developed the nation's largest agriculture loan program for farmers, and helped more than 120,000 families save for college by creating one of the most affordable college savings programs in the nation.
A recognized and respected fiscal conservative and taxpayer watchdog, Judy consistently spoke up when she believed public officials were acting irresponsibly. When Rod Blagojevich wanted to raid state funds, Judy stood up to him and refused to make the transfers.
As the granddaughter of immigrants, Judy learned from a very young age to respect the hard work and sacrifice that families all across Illinois make each and every day in order to make life better for their children. Judy's parents were small business owners who taught her the importance of living within your means and managing money responsibly; a lesson our broken state government would be apt to learn today.
LIFELONG RESIDENT
Born in Riverside, Illinois on January 16, 1944, Judy graduated from the Ferry Hall School in Lake Forest in 1962, and earned a B. S. degree in 1966 from Northwestern University's Medill School of Journalism. Upon graduation, she established herself as an accomplished journalist in the Cook County suburbs, including eleven years as a reporter and editor for several award-winning community newspapers.
She served as a public affairs executive with the American Medical Association and as a public relations advisor to area political candidates and organizations.
STRAIGHT TALKER
Judy continues to work to get Illinois finances back on track. As Comptroller, she has spoken to dozens of small business and not-for-profit organizations to build partnerships and raise awareness of state payment delays. At the same time, she has fought against new spending and additional borrowing that would ultimately dig the state deeper into debt.
COMMUNITY LEADER
Judy's achievements as a journalist and local leader have earned her awards from more than 250 civic, business, professional and social service organizations. She belongs to more than 60 business and professional organizations, including the City Club of Chicago, Government Finance Officers Association and the West Suburban Chapter of the Alpha Gamma Delta Sorority – which named her one of three "Outstanding Citizens" by her National Sorority. This summer Topinka was named one of the 100 Women of Influence by Today's Chicago Woman.
Topinka continues to call Riverside home. Her son Joseph, daughter-in-law Christina, and granddaughter Alexandra Faith Baar Topinka reside in Texas where Joseph is currently assigned as a major in the U.S. Army.
Source: Judy Baar Topinka's website
Follow Judy Baar Topinka: Facebook; Twitter