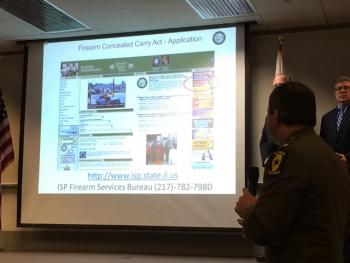 Applicants have a few steps to go through to apply for a concealed carry license through the Illinois State Police. The law goes into effect on Jan. 5, 2014. The first step will be signing up for a digital ID online, similar to a user ID and password that you'd have at most any other website.
Armed with their ID, applicants can go to the Illinois State Police concealed carry website to start the application process. For that part of the process, a driver's license number and Firearm Owners ID card number are required.
Applicants will also have to submit their addresses for the last 10 years, firearm training information, a photo, and proof that they have been fingerprinted at an approved facility. They'll also have to answer questions about their criminal history.
State Police Col. Marc Maton says the police are still working on setting up a paper application process, but Deputy House Majority Leader Frank Mautino explains that online applications are preferred.
Illinois State Police Lt. Col. Matt Davis explains the step-by-step details of the online registration process for concealed carry in this web extra video: