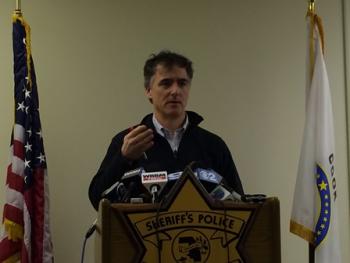 Starting January 5, firearms owners in Illinois can apply for a license to carry a concealed gun. But Cook County Sheriff Tom Dart says he has issues with the law and local law enforcement's ability to object to people he doesn't think should be allowed to carry a concealed weapon.
The sheriff says he's especially concerned with applicants who've had at least one arrest for domestic violence or gun possession, and applicants with known gang affiliations in the last seven years.
Under the new law, the restrictions are a bit looser: anyone with three or more gang-related arrests in the last seven years, or five or more arrests for anything, in the same time frame; those are the people who state police can object to.
Under the new law, local law enforcement has the right to object to applicants who they feel shouldn't carry a gun. Those applicants are reviewed by a panel established under the law. But Dart says he doesn't have the ability to object to the thousands of would-be applicants who've had one of those arrests already mentioned.
The sheriff says his hands are tied because under the State Police's interpretation of the law, local law enforcement cannot use the LEADS criminal background check database to find out if an applicant has had even just one arrest. He says his big concern is that someday there's a gun crime committed by someone who he would've objected to had he the time and resources to do so.
Dart's other concern is that he's only given 30 days to make an objection against an applicant, which just isn't enough time considering he'd have to dedicate manpower to it and because he's expecting tens of thousands of applicants on day one.
The sheriff has sent a letter to State Police Director Hiram Grau, whom he praises and does not fault for the way the law is written, asking the director to make "a blanket objection" on his behalf for those applicants with one arrest. In response, Grau addressed several of Dart's concerns, saying the "Firearm Concealed Carry Act (FCCA) specifically provides that the Illinois state police is responsible for conducting the necessary background checks and requires the ISP to raise certain statutory objections based on an applicant's arrest record."
Grau says that "the prohibition that local law enforcement refrain from conducting a background search using LEADS for license applicants is grounded in federal law."
And regarding the sheriff's request for a blanket objection, Grau says: "The statute does not provide nor will the ISP have a mechanism for entering 'blanket objections.' Therefore, (the sheriff) will need to file such objections individually..."
Dart does fault lawmakers for what he calls an extremely confusing law, and he's not sure what his next steps are in his efforts to prevent those with prior arrests or mental illnesses from being able to carry weapons.