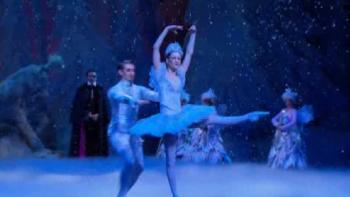 'Tis the season for sugar plum fairies, mice kings and Spanish hot chocolate dancers. All are characters in The Nutcracker, the famous ballet which takes place at Christmas time. It also takes place every holiday season at the Joffrey Ballet. For more than two decades the company has presented the family favorite in a production originally staged by the company's founder, which raises the question: how do they manage to keep it fresh and exciting year after year?
Even for those who know little to nothing about The Nutcracker ballet, there's one thing familiar to most everyone: Tchaikovsky's timeless music.
And at this time of year, the beloved ballet is as much a part of the holiday season as "Jingle Bells" and gift shopping.
For 26 seasons, Chicago's Joffrey Ballet has presented its version of what's perhaps the most famous of all ballets. But don't think of it as the same old show being dusted off and restaged. The Joffrey takes pains -- both artistic and physical -- to keep it seemingly new. One way it does that is in ensuring that no two performances of its Nutcracker are ever the same.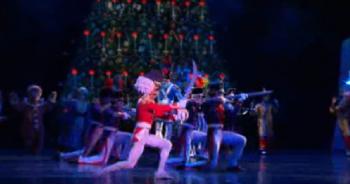 "There's a huge amount of talent in the company. I think that the bar has been raised," said Joffrey Ballet Artistic Director Ashley Wheater. "I think that the company understands that this is very important to us. I also believe that giving people opportunities to star in the leading roles completely raises the level of the company."
The Joffrey Ballet has the rare ability to rotate its 40 top-notch dancers in the ballet's many roles. It's what they call the All-Star No-Star policy. The Sugar Plum Fairy, for example, is a plum of a role and 22-year-old Jeraldine Mendoza is one of nine dancers performing it this year.
"A lot of us have like six to eight different parts, so every night we're doing something different. Every show we're doing something different," said Mendoza. "I think all of us dancers try and bring something new to the same roles that we play every year, only because I feel like it would just be boring for us, and as artists, I don't think we want our job to be boring. Otherwise we wouldn't be in this profession."
To keep the choreography and even characterizations fresh, the dancers continue  rehearsing with Wheater throughout the run of the ballet.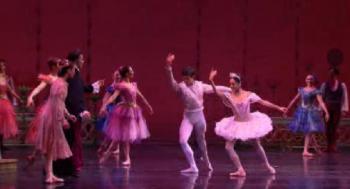 "They are our investment, or my investment in the future of ballet," said Wheater. "And I think that, for me, it's worth it. Even if the day is long, even if I'm super tired, I want these beautiful people to have their opportunity."
Anastacia Holden, 28, is now a seasoned veteran of the Joffrey, performing this year in her eleventh Nutcracker.
"We spend a lot of time rehearsing, so that we make sure we iron out those kinks that we're constantly switching in rehearsal, and so we're ready to do that on stage," said Holden.
The Joffrey's take on The Nutcracker was first presented in 1987 when the company's legendary founder, Robert Joffrey, transposed the story from its European setting to an American home. Joffrey co-choreographed it with the man who would become his successor at the company, Gerald Arpino. And, the very first Snow King in that 1987 production was Ashley Wheater, the company's current artistic director, who is now passing down the tradition in his own way.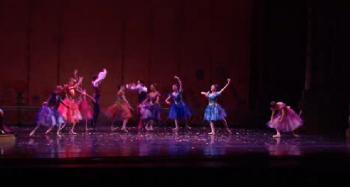 22-year-old Cuban native Alberto Velazquez has been with the Joffrey for only three seasons. He was not yet born when Robert Joffrey died, and yet he's now part of the famous dancer's legacy under the nurturing eye of the company's current leader.
"I feel that Ashley brings a little bit more of his own experience when he was a dancer," said Velazquez. "He will tell us to move a certain way to make it look prettier or to be able to make it look more strong."
The Joffrey Ballet has lofty plans for many different ballets in seasons to come.  But it's safe to say that The Nutcracker with its sugar plums, flowers, mice and snow will remain in the company's repertoire to delight audiences of Christmases future. The play is on stage at the Auditorium Theatre of Roosevelt University through December 28.