Artifice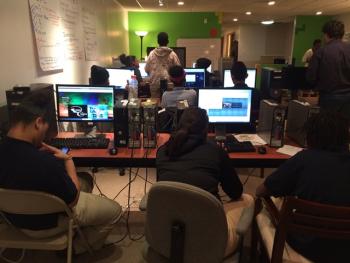 Most teenagers find computers useful only for homework and checking Facebook. But a new nonprofit, started by a few people associated with the University of Chicago, aims to teach teens in the Woodlawn neighborhood everything about technology, from building a website to building a computer itself.
Throw in a few lessons about business and the group hopes that some of those students will eventually run their own small, tech businesses.
TC Morris can't resist a challenge.
"I saw this and it seemed complicated, and when I see something complicated, it kind of interests me," said Morris.
The ninth grader has discovered that what he's working on right now is actually pretty simple.
"The solder will transmit the electricity to the other parts of the motherboard, so basically it just repairs the connection," he said.
Morris is learning to repair a computer's motherboard at Artifice, a new program in the Woodlawn neighborhood, designed to teach high school students technology skills.
Morris hopes to get more hands-on experience in the areas that interest him.
"I like robotics. Building a robot has always been cool to me, hacking a computer. Who wouldn't want to know that?" said Morris.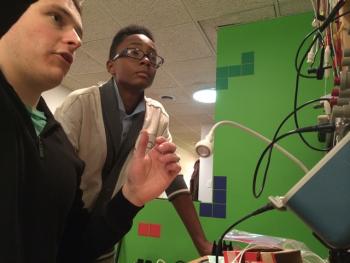 The computer hacking lesson may not happen but students from Hyde Park Academy, just a couple blocks away, are going through a two-week boot camp to learn how to build their own website.
"So far, about me page and background, you can see, I made a collage of myself. I thought it'd be hard, but it's not hard," said ninth grader Morgan Sanders.
Sanders says she's learned a lot and pushed herself to learn more, even taking home a book about web development.
"Some stuff I didn't know; if you want text to blink, I found that interesting and wrote some notes down, little things, so I can be ahead of the group," said Sanders. "It's nice to know because society uses more and more technology, and becomes more advanced, so it's nice to be with the times."
And while it's early for some of these students to know whether technology will become a career path, Artifice founders say they're happy to see other students share Morgan's enthusiasm.
"We've apparently got permission slips being tucked under the door from kids we haven't met yet. We've got kids bringing their friends," said Ashley Lane, CEO of the brand new nonprofit.
She says some of the students are starting with just the basics.
"We're learning that a lot of these kids haven't used computers since they were 6, so the tangible benefits include being able to look at File, Edit, View and other toolbar menu options, and knowing what to expect to be in the dropdown menu and knowing how to do very basic things like cut and paste," said Lane.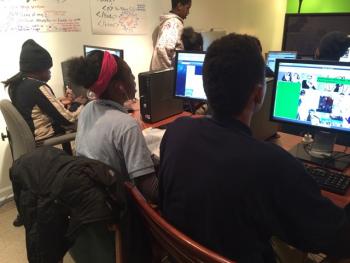 Down the line, Artifice could be a place for students to grow their own small businesses.
"We are hoping, in addition to being an incubator for kids who want to do some consulting work or web design or mobile apps, that we'll be a place where kids can connect with mentors," said Lane.
But Lane sees an even more fundamental role for the new organization.
"We want it to be a place where they're safe, where they can be warm, hang out after school, because a lot of them don't have that," said Lane. "We want it to be a place where their creativity is encouraged, creative problem solving skills are encouraged. Maybe tech isn't your thing, but you're into art and we need someone to do the graphics for our video game."
In addition to building a website, students can branch off into other skills, like electrical engineering and robotics, systems information technology, or IT and computer programming.
When students leave Artifice, founders want them to have something to show for their time and effort.
"We want them to have a portfolio of things they do and learn here, we want them to be able to show that off. We thought if we had them build personal websites, they'll always have that to refer to when talking to employers, college applications," said James Crooks, a PhD candidate in biophysics at the University of Chicago and Artifice's chief technology officer.
He hopes the skills the kids learn will give them other options, in addition to college.
"What I'm interested in though is the kids getting skills they can use and having the option of not going to college if they don't want to, because they can work, they can be successful without having to load themselves up on debt," said Crooks. "For those who are really interested in learning more and doing more, and want to push themselves, we want to push them towards scholarships and not college with debt, and get as much for cheap or free as they can."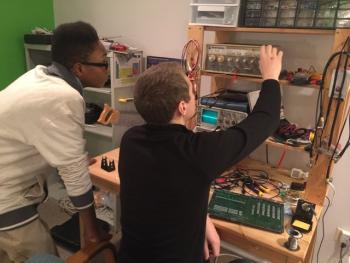 For now, Artifice is in its infancy, starting out in space donated through the Woodlawn Community Development Corporation, and rapidly growing.
"And thankfully, U of C donated 26 working computers last week, but we're growing at a rate where we need tables for all 26 of them way sooner than expected," said Lane.
From processing units to monitors, to cables and mice, Artifice exists entirely on donations and volunteers. Founders say they're working on grants and fundraising opportunities to eventually be self-sustainable.
For now, Artifice is only recruiting students from Hyde Park Academy, until the organization can afford to offer transportation assistance to students from other schools. Their vision is to eventually have several locations around the city.