Chicago Sun-Times Theater Critic Hedy Weiss joins us to review shows currently on Chicago area stages, including Miss Saigon at the Paramount Theatre in Aurora, The Normal Heart, presented by TimeLine Theatre at Stage 773, Mary Poppins at Marriott Theatre in Lincolnshire, and upcoming shows presented by River North Dance Company at the Harris Theater. She will also provide a recap of the 2013 Jeff Awards.
As part of its Broadway Series, The Paramount Theatre in Aurora presents Miss Sagion, a musical about an American soldier who falls in love with a bar girl in Saigon during the Vietnam War. After their wedding, the soldier is forced to evacuate the country, and leave his wife behind. In a positive review of the play, Chicago Tribune theater critic Chris Jones describes director Jim Corti's staging of the show "progressive, counterintuitive and simply spectacular." In another positive review, Hedy Weiss calls the story "a work of phenomenal emotional punch, historical gravitas and musical beauty." Miss Sagion runs for 2 hours and 40 minutes, and will be performed though November 24. Tickets range from $36 to $50. For more information, click here.
Paramount Theatre
23 E Galena Blvd
Aurora, IL 60506
(630) 896-6666
 
The Tony-Award winning Broadway production The Normal Heart recently made its Chicago debut at Stage 773. Presented by Timeline Theatre Company, the play is "set at the height of the public and private indifference to the AIDS plague in the early 1980s." In Timeline's presentation of the 1985 drama, actor/director David Cromer takes the stage to play a passionate activist who is leading the fight to raise awareness about the crisis. Time Out Chicago theater critic Kris Vire called the production "a vital time capsule" and said, "the play feels more powerful in Nick Bowling's penetrating new production for TimeLine Theatre Company than when I first read it, a dozen years after its debut." The 2 hour and 40 minute show runs through December 22, and tickets range from $37 to $50. For more information, click here.
Stage 773
1225 W. Belmont Avenue
Chicago, IL 60657

(773) 327-5252
Now playing at the Marriott Theatre in Lincolnshire, Mary Poppins is a family-friendly show that features "a magical score and thrilling dancing." Starring Jeff-Award winning actor Summer Naomi Smart, the musical, which is based on the popular Disney film, includes well-loved tunes such as Spoonful of Sugar, Chim Chim Cher-ee, and Let's Go Fly a Kite. The show runs through January 5, 2014, and tickets cost between $40 and $48. For more information, click here.
Marriott Theatre
10 Marriott Drive
Lincolnshire, IL 60069
(847) 634-0200
For our online audience, Weiss also reviewed Lord of the Flies at Steppenwolf Theatre Company. Watch the web extra review: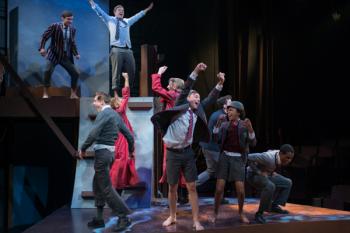 Lord of the Flies
Steppenwolf Theatre Company presents Nigel Williams' adaptation of William Golding's classic novel The Lord of the Flies.  Directed by Halena Kays, the play transports audiences to a deserted island inhabited by a group of stranded British school boys. As part of the Steppenwolf for Young Adults series, the play "looks into the darker parts of human nature where it's civilization vs. savagery and the mob vs. morality." In a review of the show, Hedy Weiss said the story is "thrillingly brought to life" in Steppenwolf's production." The show runs for 1 hour and 30 minutes, and will be performed through November 15. Tickets cost $20. For more information, click here.
Steppenwolf Theatre Company

1650 N Halsted Street

Chicago, IL 60614
(312) 335-1650