Ernest Hemingway wrote lean prose but liked his burgers fatty and flavorful.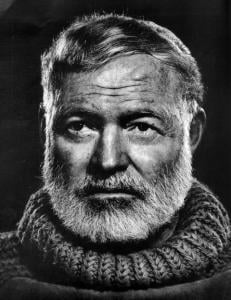 The famous author had great appetites. Food and friendships were a moveable feast for him, from Oak Park to Paris to Key West and many points in-between. On the eve of the new season of Check, Please!, I'm passing along a hamburger recipe that local kitchens ought to relish.
When Ernest Hemingway was a well-established and wealthy author, he gave specific instructions to the cooks at his Havana home on the proper way to prepare Papa's patties.
A shopping trip in and around his hometown last week got me most of the way there. Minus one ingredient, it was still one hell of a burger.
But first: thanks and credit to Cheryl Lu-Lien Tan, author and food blogger for The Paris Review. A Hemingway fan, she came across his notes to his Cuban housekeepers. The recipe had been published before in a cooking encyclopedia after his death, but I was unaware until I saw Ms. Tan's blog post last month. I probably owe her a burger and an order of F. Scott Fitzgerald french fries.
The ingredients:
1 lb. ground chuck (fattier than I'd prefer, but more in line with what was available then)
2 minced garlic cloves
2 chopped green onions
2 tablespoons of capers
1 egg beaten
1 tablespoon cooking oil
1/3 cup of dry red wine
1 teaspoon sage
            [And then it gets a little more rarified]
1 teaspoon, India Relish (a mix of pickled veggies unavailable at Caputo's, Whole Foods or Penzey's Spices -- so I skipped it)

1/2 teaspoon Beau Monde Seasoning (basically onion, celery and salt with a touch of pepper and sweetness)
1/2 teaspoon Mei Yen Powder (a discontinued blend, but an online guide suggested part salt, part sugar and a dash of soy.)
Mix the ingredients and let them marinate for 20 minutes. Shape four burgers and fry them on a hot burner -- Hemingway liked his burgers fried, not broiled. Cook for four or five minutes per side, until crispy on the edges and pink and juicy in the middle.
It took a long time to gather and prepare the ingredients, and it took about 75 seconds to devour the burger. I had to eat a second one to savor what I'd missed during the first inhalation.
It was delicious -- even though my carnivorous son took one bite and labeled it: "weird." And my vegetarian daughter never stepped into the dining room. And my wife said, "It's good, but I don't see how it's worth the trouble."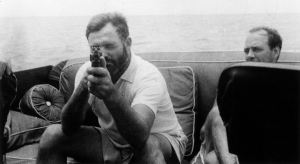 Trust me, it's worth the effort at least once. I ate it on a toasted bun with lettuce and tomato. I wanted a taste before deciding which condiments to add. It needed nothing. I took one bite, then another, then it was gone. The ground beef was infused with flavor and moisture. A-1 sauce, ketchup or mustard would have been sacrilegious. In all Ernest-ness, it was the best burger I've ever made.
Tune in this Friday night to Check, Please! with new host Catherine De Orio, and don't miss tomorrow's Artbeat blog post about the perfect movie to watch afterwards.