We talk with Academy Award nominee Joan Allen about her latest performance in The Wheel at Steppenwolf Theatre Company, a play about what happens to hope and human nature in times of war.
We spoke with the play's director, ensemble member Tina Landau.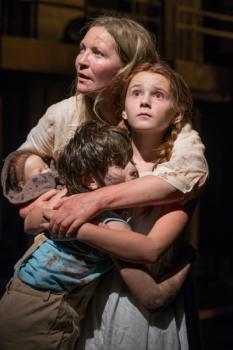 What is the play about?
I'd say the play is about a woman's journey in a landscape that is increasingly brutal and violent. During the journey, she is tested to keep her sense of compassion and humanity and love alive for herself, for the children in the world, and for the child that she once was.
Why did you decide to direct this production?
When I got the script, I had just seen Joan Allen do a reading for another play at Steppenwolf that we ultimately decided not to do. When I saw that reading, I said 'I need to work with Joan Allen. She is on acting fire, and I have to direct her.' Joan had also said that she wanted me to be her boss, so we had similar responses to working with each other.
We also had similar responses to the play. It's demanding and ambitious, and it requires a kind of fearlessness that we both respond to well, and excitedly. I have fallen in love with the play for its scale, its panoramic view of time and history, and for the way it focuses on an intimate psychological journey of one character.
In the play, Joan's character, Beatriz, becomes the unintentional guardian of a young girl. Does the audience experience the psychological journey of Beatriz or the young girl?
Joan's character, Beatriz. The little girl is kind of the trigger and the vessel through which Joan's character goes on the journey.
How would you classify this play?
I would describe it as magical realism. It's an epic journey that is harrowing at times, but it also has comedic elements, and lots of singing.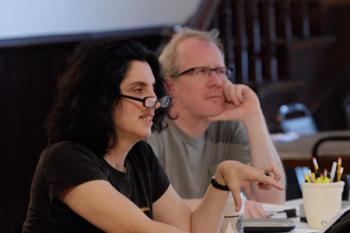 The characters travel through 150 years of wars – how does the set depict that journey?
The play is very open to interpretation, so it was a hard show to design. We didn't approach it very literally – it's not like, 'now we are in this era' or 'now are in this war.' The journey you go on is more of an experience, instead of something you're tracking the whole time. I think there are clues, but it's not very literal. It's slightly abstract.
How has the audience responded to this production so far?
I love the responses because the audience has been quite divided. I would say half of our audience is saying that the piece is incredibly powerful, very moving, and very disturbing. However, the other half is saying some version of 'that was the weirdest play I've ever seen,' or 'what was that about?'
Is there a message that you want the play to convey?
In listening to our audience, I have discovered that people take away such different things. For me, it is that there is always another time --another cycle of the wheel-- in which we can try again and try harder, and maybe make a difference.
Interview has been condensed and edited.
---
Watch a video about how the production team behind The Wheel brought the show to life:
Joan Allen talks about her role in The Wheel in the following video:
---
Back in 1987, John Callaway interviewed Joan Allen and actor John Malkovich. The interview focuses on Burn This, a Steppenwolf play that was in production at the time. Watch the web extra video: