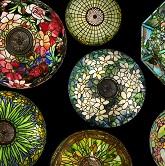 One thing about the functional artwork of American artist Louis Comfort Tiffany: it must be seen to be believed. A flat image in a book or on a screen-- beautiful as it may be -- is no match for the real thing. To stand in front of a Tiffany is to behold a three-dimensional wonder, alive with color and light.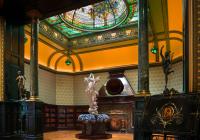 And one thing about the functional design of the Nickerson home: it must be seen to be believed....
A new show of art intoxicates the senses in a rich -- very rich -- setting. The 1883 Nickerson mansion is home to the Driehaus Museum. Restored at great effort and re-opened five years ago, this Chicago house-museum is a fine limestone building at the corner of Wabash and Erie. Inside, it's a Gilded Age palace packed with paintings, antiques and marble.
Now, for the first time, the museum presents an art exhibition. Louis Comfort Tiffany: Treasures from the Driehaus Collection is the crème de la crème of more than 1,500 pieces possessed by Chicago businessman and philanthropist, Richard H. Driehaus. The 60+ works chosen by curator David Hanks were created out of glass, metal, stone, and more by the artist and his collaborators.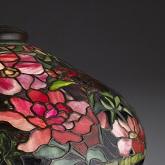 It is the work of a true visionary -- one who could light your living room with a lamp, decorate your dining room with stained glass, or protect your palace with a bejeweled firescreen. In the Driehaus Museum, these nature-inspired artworks have found a harmonious setting: a building built in the same era that they were made. Place these Tiffanys in a more typical museum, and the effect would be diminished.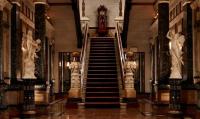 Chicago is an underappreciated home to works by the great Tiffany. If you've marveled at the dome in the Cultural Center, you know his work; if you've seen the mosaics on the fifth Floor of Macy's, you know his work; and if you've seen the stained glass in the landmark Second Presbyterian Church on South Michigan Avenue, or the Palmer House Hilton, or the Marquette Building, you know the work of Louis Comfort Tiffany.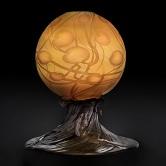 The best place to start is the Driehaus Museum. If you can imagine walking around inside the fanciest of the miniature Thorne Rooms at The Art Institute, you might get an idea of what it's like to walk through the opulent home of Samuel Nickerson, a 19th century Chicago banker and liquor magnate.
Watch a tribute to Tiffany on Chicago Tonight on Tuesday and believe me: you'll want to see it in person.