The video cannot be displayed.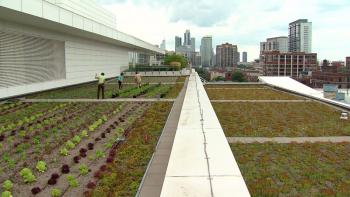 Twice a week, Stacey Kimmons heads to McCormick Place, the city's preeminent convention center. But unlike most of the millions of people who visit McCormick Place every year, Kimmons goes there to garden.
"I get my water bottle first so I don't get dehydrated," Kimmons says. "The typical day for me is planting stuff and picking stuff, and weeding and watering the vegetables, and planting the sedums."
At 24, Kimmons recently served four months in Cook County Jail. He was charged with aggravated fleeing and attempting to elude a police officer. Today, however, he's part of a Cook County transitional program designed for ex-inmates who want to learn the basics of agriculture. Formerly known as Cook County Boot Camp, this program is run out of the Cook County Sheriff's Vocational Rehabilitation Impact Center. It's a partnership with the Chicago Botanic Garden, and it takes place on McCormick Place's brand new rooftop garden – the largest rooftop garden in the entire Midwest.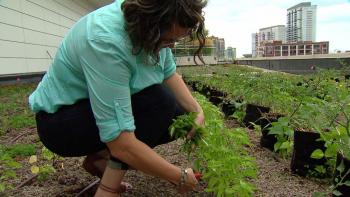 Angela Mason, director of urban agriculture at the Chicago Botanic Garden, is in charge of the ambitious garden.
"We're growing everything from lettuce and herbs to Swiss chard and kale, peppers, eggplants, tomatoes," Mason says. "You name it, we're trying it. I'm a plant dork. So I love experimenting with the different soil amendments and all the different crops."
Turns out, it's a love Kimmons also shares. The program's helped him make that crucial transition from prison to gainful employment.
"It actually kept me occupied from a lot of things," Kimmons says. "There's so much to agriculture and horticulture that I knew, but I never actually took the time out to get into."
So, what's the larger vision behind this rooftop garden? It all goes back to the convention center. The vegetables go directly downstairs to Savor, McCormick's catering company. It's an experiment in sustainability, with no middle man and no carbon emissions from shipping or delivering. The garden also helps cool the building below.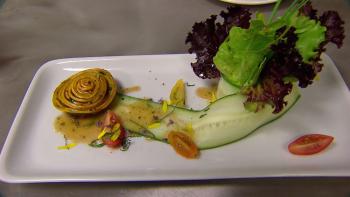 For the garden's crew – which comes from VRIC and Windy City Harvest, a training program operated by the Chicago Botanic Garden – the trick is finding those plants that can thrive on an urban rooftop with shallow soil and unpredictable weather.
"We let our Mother Nature take its role," Vincent Lai says. "And we see what is coming up and what can be harvest[ed]."
Lai is head chef for Savor at McCormick Place; no small job considering the convention center sees about 3 million visitors per year. He specializes in catering for massive events, with a personal record of serving 16,000 people in a single day.
The scale of the garden is no less impressive. At 20,000 square feet, it's expected to yield 4,000 pounds of produce this year, and more in years to come.
"People are like, how many acres are you guys growing?" Lai says of others in his industry. "How many square footage? And it's just amazing."
The garden launched this June, but Mason already has her sights on expansion.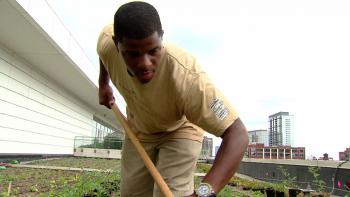 "We're farming about half an acre now," she says. "McCormick West has about three acres of rooftop. I'd like to see all three acres of rooftop in farm production."
For now, half an acre's enough to alter at least one life trajectory. After tending this garden for a few months now, Kimmons is starting to re-imagine his future.
"I'm actually interested in going to school for the culinary arts because I actually want to be a chef. So, hopefully, after the nine-month program I can make them both go hand-in-hand, and somehow produce organic food and sell it at the same time," he says. "Especially if you put your mind to it. [Gardening] can be a real potent weapon to help you get to wherever you want to get in life."