This past weekend, 300,000 people turned out for the biggest Lollapalooza yet. For its ninth year, 130 bands played on eight stages in three days, featuring a wide range of artists from gothic rock band The Cure, to electronic artists like Icona Pop, and alternative artists such as Vampire Weekend.
On top of the hundreds of thousands of music lovers crowding Columbus Drive, the festival brought in more than $4 million in revenue for the city of Chicago. Joining us on Chicago Tonight at 7:00 pm to talk about the highlights of Lollapalooza is Chicago Tribune music critic Greg Kot. View a slideshow of photos from the festival.
Clark Gapen of Winnetka, 21, attended the festival this weekend. We talked to Gapen, who is going to be a senior at the University of Wisconsin-Madison, about his experience.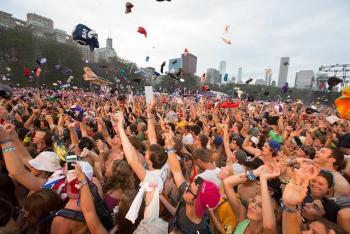 What was the atmosphere like this year?
There was a lot of energy and -- like every year -- it was crowded. Definitely a full house. There was a lot of excitement, and people seemed really happy to be there.
How did the attendees dress this year? Was there a distinctive look that seemed popular?
I feel like it's been pretty similar to previous years. There were a lot of tank tops, flowing dresses, and girls with flowers in their hair. 
Was it muddy?
This was the least muddy year I have experienced. Grant Park was pretty dry.
How many times have you been to Lollapalooza?
This is my fourth one. For the past two years, I went all three days. This year, I just went on Sunday. 
With 300,000 attendees, city officials say it was the biggest Lollapalooza yet. Did it feel more crowded than usual?
Not a lot bigger. It feels massive every year.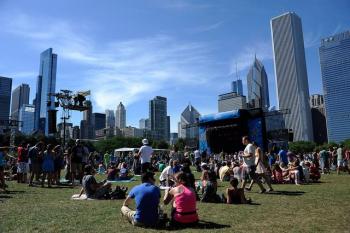 Who were your favorite acts?
Vampire Weekend was spectacular, and a band called ATL-J were terrific. The Cure were great, and Jake Bugg was really good too.
Will you go back next year?
Definitely, I would love to go every single year. As long as I'm living in Chicago and able to afford the ticket, I will go to Lollapalooza.
Hope Holmberg and Kathy Long contributed to this report.