Chicago is getting some big names in the music industry coming to perform this summer. Who is worth the money, and which shows are must-sees? Chicago Tribune music critic Greg Kot has the scoop on Chicago Tonight at 7:00 pm.
One of the many major music festivals in Chicago this summer is Pitchfork Music Festival, which returns to Union Park July 19-21 for its 9th edition. We spoke with Chris Kaskie – the president of Pitchfork – about this year's festival and the artists he is most excited to check out.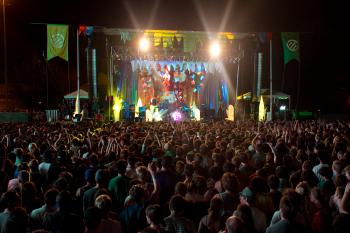 Tell me about how the Pitchfork Music Festival was born? 
At Pitchfork magazine, we had been thinking of ways to create a tangible way to show the music and art that we were experiencing every day. We wanted something to exemplify what we do day-to-day and to showcase the music that we love. 
This will be the 9th Pitchfork Music Festival. How would you describe the festival? What differentiates it from some of the other festivals around Chicago this summer?
It's an international festival. It's a mid-sized festival that's purposely mid-sized with very attainable goals in mind. We want all 46 bands to be interesting to people. It's designed for people to see things that they recognize but also discover new music. We envision it as a place where people should show up when the doors open and stay until they close, and focus on seeing music and hanging out with friends while they're there.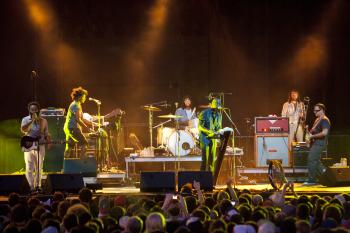 Take me through the process of planning the festival, specifically the lineup. How far out do you begin to book artists and what kind of artists are you looking for?
We start thinking about next year's festival right after the other one ends. A few of us sit down and think about who we'd like to have come out. Sometimes it's the smallest bands in the world that we want; sometimes it's some of the biggest. You usually finalize the lineup in late winter. Discovery is something we're definitely passionate about. For the festival, we have fun putting bands on the lineup that people haven't heard of. We try to put together a music festival where people will come for the entire package, not just a few big names. There's nothing better than catching a band you've never heard of before and being blown away.
This year's lineup features a pretty eclectic cast, from R. Kelly to Björk, and of course, many bands we've never heard of. How would you describe this year's lineup?
I think it's diverse and representative of the industry at large. There are all kinds of music being made and that's really exciting. Artists are no longer bound by what's at the top of the charts. [The lineup] is very carefully thought through and unique. You can't really look at any other festival and say that they have a lineup like we do.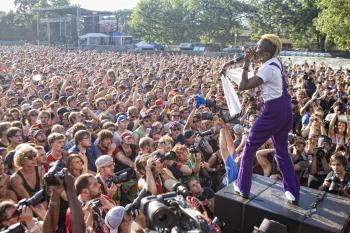 Who are you most excited to see?
I'm excited to see R. Kelly. I've never seen him before but I think people are going to be excited and surprised by what he brings to a live show. I'm also excited about the Savages - they're a rock, punk band from England made up of four women. Their music is really intense and they're just incredible. I've seen them once but can't wait to see them in a festival setting. Rustie, TNGHT are a few others, and Mikal Cronin is another guy who should blow some people away.
As the president of Pitchfork, what are your short- and long-term goals for the festival?
We just want to continue to be unique and to make it as enjoyable to the bands and attendees as possible, without anyone noticing. As we've grown, every year has required constant tweaking, so we just try to continue to get better at what we do.
Interview is condensed and edited.
Check out the chart below for all you need to know about the festivals and bands hitting stages around the city this summer.