In the heart of Chicago, shaded by the afternoon shadow of Michigan Avenue skyscrapers, watered by the mist of Buckingham Fountain wafting through the air, is a farm. A real farm where passersby can maybe grab a taste of Swiss chard or snatch a green pepper. And all the produce grown there is sold at markets around town. The surprising site is one of many small, sustainable, organic farms that have been created and are run by Growing Power, an organization that teaches farming and entrepreneurial skills to kids in Cabrini Green, Altgeld Gardens, Roosevelt Square and other places around the city. Watch the story on Chicago Tonight at 7:00 pm.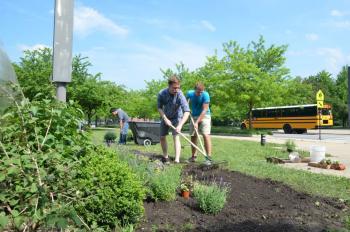 Tru Fragrance is a fragrance development company that uses flowers from Growing Power Chicago in their perfume products. In 2012, Tru Fragrance teamed up with the city of Chicago and several city and community organizations to launch Tru Blooms -- an initiative designed to transform Chicagoland's green spaces into growing spaces, cultivating flowers that are harvested and bottled into a limited edition perfume. We spoke with Tru Fragrance CEO Monte Henige about the relationship with Growing Power.
How did Tru Blooms get started?
Tru Blooms is a brand of perfume that we make and market. Last year was our first harvest. We decided that we wanted to focus on the eco-chic concept, the grow locally and buy locally concept. We thought that was important to the upscale consumer. As a result, we went out and built a fantastic product. It's great to be in a for-profit business where you are also helping the community. It's important to us to be socially responsible and help the community around us. That's part of what makes us who we are. It's part of our DNA. We wanted it to serve a higher purpose, and Tru Blooms came out of that.
How did you decide to team up with Growing Power Chicago?
When we came up with this idea, we looked for organizations that were thought leaders in urban agriculture. We wanted to find people who had already been doing this for a while, and who had a vision and the ability to execute. Erika Allen and her organization were a perfect fit. I enjoyed Erika's passion for urban agriculture and what it does for the community. Since that partnership started in the winter of 2011/2012, they've grown with us for two seasons.
Which ingredients do they provide for the perfume?
We have 27 gardens around the city, and not all of them grow all the ingredients. Growing Power has a lot of space, so they grow all four ingredients we use: rose geranium, patchouli, rose and lavender.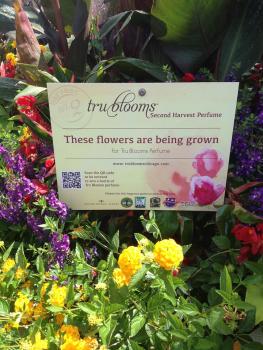 How many urban farms are you in a partnership with?
It's a whole bunch of folks. There are a lot of people who have already established urban agriculture locales who are often looking to plant things that are economically viable and compatible with their mission. We team up with those organizations.
We have a garden at the Cook County Vocational Rehabilitation Center. They've done a great job. We also have partnerships with the Peggy Notebaert Nature Museum, the Chicago Botanic Garden, the Chicago Park District, and Whitney Young High School. We even have a garden at O'Hare Airport. It's a big network. We're touching a lot of different people and impacting the urban agricultural phenomenon. And we're doing it in a way that's beneficial for these organizations.
What impact has Tru Blooms had on Chicago so far?
Well, I know it's been meaningful to our organization and all our employees here. We've also got over 100 workers who have been trained and employed to maintain the gardens for these not-for-profit organizations, and I'd like to think we've exported a little Chicago high-fashion flare to our customers who have bought the products. That includes both people who live here and the tourists who have bought the fragrance here on a trip. We sell in high-tourist areas and hotels. I also think we've added to the beautification of the city.
What kind of feedback do you get from your customers?
I think the feedback is that they absolutely love the fragrance. They provide that feedback with their wallets and that's' been terrific. It's a stellar product, and the fact that there is an eco-sustainability message is important. It's part of the brand, and that's something consumers want to be a part of.
This interview has been condensed and edited.