U.S. Cellular Field could be filled 10 times over with the number of Chicagoans living in food deserts – 348,000 Chicagoans; 124,000 of them are children.
Food deserts, areas without access to grocery stores containing fresh, healthy food, have declined in the last five years, according to the 2011 Chicago Food Desert Drilldown, an updated analysis of Chicago's food desert conditions released by the Mari Gallagher Research & Consulting Group.
Although Gallagher didn't originate the term "food desert," her groundbreaking 2006 research study, "Examining the Impact of Food Deserts on Public Health in Chicago," pushed awareness of the problem into the public eye.
Today, Mayor Rahm Emanuel and First Lady Michelle Obama met on Chicago's South Side for a day-long food desert tour, ultimately announcing plans to build 36 grocery stores in the city's under-served communities. Moreover, many of these grocery stores would be provided locally grown produce by Growing Power, an urban farm network, which seeks to increase economic development, as well as the availability of locally grown food in Chicago.
"We can talk all we want about making healthy choices about the food we serve our kids, but if parents don't have anywhere to buy those foods, then that's all it is - it's just talk," said Michelle Obama. "Think about all the jobs we could create, all the neighborhoods we could begin to transform, and what it means when our children finally get the nutrition they need to grow up healthy."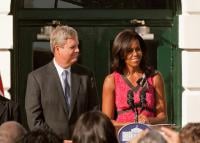 The tour began at a prototype Walgreens on 75th Street that already sells produce and other healthy fare, where Mayor Emanuel and the First Lady were joined by supermarket executives and mayors from across the country to discuss solutions to make healthy food access more widespread.
"Stores like this one are a win-win-win – a win for the local economy, a win for local job creation, and a win for the Chicagoans who now have access to a full selection of groceries and fresh food," said Mayor Emanuel. "It is unacceptable that a half-million Chicagoans do not have access to healthy, fresh foods for their family, and I am committed to the elimination of these food deserts in our city."