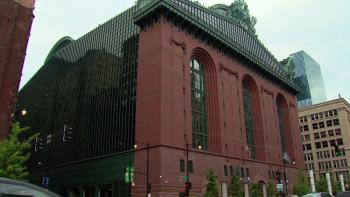 16-year-old Andrew Fogelis is sure about one thing: 3-D printing is going to be part of his future.
"It's the future of manufacturing," the Lane Tech High School junior says.
A member of his school's NASA club, Fogelis wants to go into aerospace engineering – which is why he recently spent the day at Harold Washington Library's new maker lab. It's the first place in the city that offers the public free access to emerging technologies, like 3-D printers, laser and vinyl cutters, and milling machines.
Students like Fogelis are a huge factor behind the city's decision to launch the maker lab, funded by a $250,000 federal grant. It's part of a broader effort to move American students from the middle to the top of the pack in science and math.
"The thing we're falling behind in is engineering," Fogelis says. "We don't have as many people who are so passionate about it, who just want to learn about it."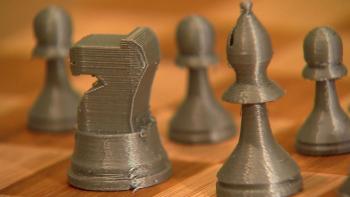 For Chicago Public Library Commissioner Brian Bannon, this lab is also a chance to redefine the traditional public library.
"Many of us remember using the library as a child, going to a book reading program," says Bannon, who first got familiar with the maker movement while living in San Francisco. "While books are a big part of our brand, an important part of our brand, libraries at their core… [are] even more about connecting people and exposing them to big thinking."
So, what is 3-D printing and why is it useful? In essence, it's when a printer translates a 3-D computer design into a physical object. It's done one layer at a time, and usually each layer is about the width of a human hair.
"They use, in its simplest form, pieces of plastic that create this 3-D object," Bannon says. "But really anything that you can design or imagine in 3-D can be printed in a box."
3-D printers have been on the market since 2007, but recently the technology's had a number of breakthroughs. Last year, an Iowa manufacturer began using his 3-D printer to make custom, to-scale replicas of patients' hearts so surgeons could practice before surgery.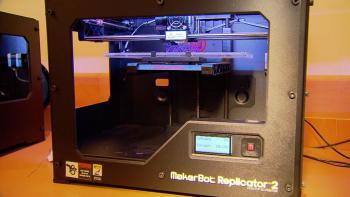 In February, Cornell researchers created a human ear replacement using a 3-D printer and gels made of living cells. In May, the world's first 3-D printed guns emerged, igniting panic among regulators. In June, a 3-D printer passed the microgravity test, meaning 3-D printers may soon be bound for the International Space Station.
At Harold Washington's maker lab, visitors are starting small with things like coffee sleeves, chess pieces and key chains. Mark Anderson is one of the Chicago Public Library staffers who trains people to use the machines.
"The first time you make it, it's not going to be perfect or correct," says Anderson, who's the division chief of CPL's business, science and tech division. "You have to go back to problem-solve, troubleshoot, sort of tweak it to make it better."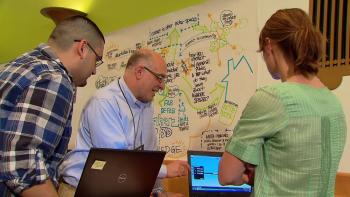 For Chicago Public Libraries, this lab is about giving the public a free glimpse at the future. Usually, money's a huge barrier to learning these emerging technologies. The sticker price right now on a 3-D printer is between $400 and half a million dollars.
"We can introduce people to these technologies that right now may be more expensive than a regular person can buy," Anderson says. "But in five years, they might not be that way."
Fogelis looks forward to the day when the market might tip in favor of accessibility.
"Really, I see – one day – everyone having one in their home," Fogelis says. "If they ordered something online, let's say a pair of shoes, they'd be able to go and just print it out right away."
From the library's perspective, 3-D printing presents an opportunity not seen since the 1990s when libraries first brought free internet to the masses. Libraries these days aren't exactly synonymous with cutting-edge innovation, but history suggests they can reclaim that mantle.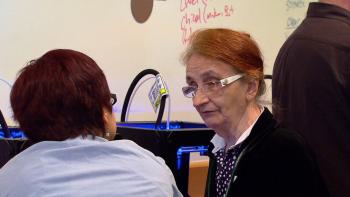 "One of the fathers of American libraries is Benjamin Franklin," Bannon says. "He's noted with having created the early examples of the subscription liberty. But what many people don't know is that in that very library he did some of his most exciting experiments with electricity and other emerging technologies of the day."
Right now, Harold Washington's maker lab is open till the end of 2013, with officials watching closely to see how visitors use the technologies. If the lab's a success, Bannon says the city may bring 3-D printing to select branches across the city.
"Some of these things will scale," Bannon says. "Those are models that we're testing and we look forward to seeing where they go."