Need some ideas for what to do this weekend? Chicago Tonight knows what is going on!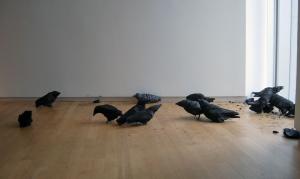 Climate of Uncertainty at the DePaul Museum of Art
Twelve artists broach the subject of environmental degradation in Climate of Uncertainty, the newly-opened exhibition featured at the DePaul Museum of Art. Pieces range from a makeshift laboratory focused on creating algae-based biofuel to a robot that charts the carbon dioxide levels in the gallery by drawing on the wall. Climate of Uncertainty runs until March 24. Admission is free. Read an interview with one of the artists and view a slideshow of the pieces.
Hours:
Mon. - Thursday : 11 - 5
Friday : 11 - 7
Sat / Sun : 12 - 5
DePaul Museum of Art
935 W Fullerton
Chicago, IL 60614
Tel: 773.325.7506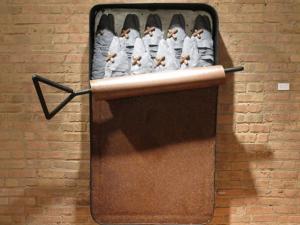 Bridgeport Art Center's First Annual Art Competition
The Bridgeport Art Center's First Annual Art Competition features selected works from a pool of over 220 artists living or working within 100 miles of Chicago. The winning piece, titled "Together We're F—ed," represents the gallery well. The piece, a giant sardine can stuffed with nine oversized dead fish, challenges viewers with its grandiosity – both in size and bluntness. Patrons can expect similar evocations from many of the exhibition's works. The exhibit runs thru Jan. 31. Admission is free. The exhibit is open Monday thru Saturday, 8:00 am to 6:00 pm.
Bridgeport Art Center
4th Floor Gallery
1200 W. 35th Street
Chicago, IL 60609
Tel: 773-247-3000
Chicago Blackhawks at Los Angeles Kings Official Roadwatch Viewing Party
The Chicago Blackhawks open their long-delayed 2012-2013 season on Saturday in Los Angeles, much to the relief of hockey fans around the city. Gather with your fellow devotees for an official Blackhawks viewing party this Saturday at Pop's Pizza Sports bar in Roselle starting at 2:00 pm. Enjoy beer and pizza while marking each goal with celebrations and sounds that mimic the Madhouse on Madison.  Must be 21 or older to enter. Each road watch party location will offer food and drink specials. Contact the venue for more information.
Pop's
817 Nerge Rd.
Roselle, IL 60172
Tel: 630-980-0400

The DuSable Museum's 2013 Dr. Martin Luther King, Jr. celebration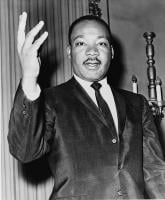 Celebrate the importance of Dr. Martin Luther King, Jr.'s life and legacy at the DuSable Museum of African American History with its 2013 Dr. Martin Luther King, Jr. celebration on Monday, January 21, a day-long event filled with live performances, dance, films, and art to inspire, entertain, and educate all audiences. The day begins with a broadcast of President Obama's inauguration at 10:30 am and lasts throughout the day. Admission for non-members is $10. Children under the age of 6 are free.
DuSable Museum of African American History
740 East 56th Place
Chicago, IL 60637
Tel: 773-947-0600