Chicago residents hoping for a white Christmas may be out of luck this year, according to projections by local meteorologists. This week, the city officially broke the record for the longest stretch of time between measurable snowfalls, a record that stood at 281 days. As the days without any real snow continue, the record is extended further.
"This is a climatological anomaly," said meteorologist Victor Gensini, a professor at the College of DuPage. "We're seeing a pattern that's not conducive at all to snowfall."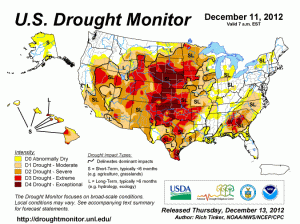 This lack of snowfall isn't the only anomaly for Illinois this year. This past winter was the warmest on record. The spring – in particular the month of March – had unusually high temperatures. A crippling summer drought left farmers with their hands tied, and few healthy crops to harvest. Northern Illinois was hit by a tornado. Major thunderstorms knocked out power, shutting down the music festival Lollapalooza. Not to mention the Midwest impact felt by Hurricane Sandy, which provoked strong winds and dangerous waves as far west as Lake Michigan as the storm ravaged whole communities on the East Coast.
Taken together, what do this year's strange weather patterns mean for the future of Illinois' economy and environment? Meteorologists are trying to wrap their heads around this very question.
Gensini studies changes in thunderstorm patterns, using historical records and numerical models to forecast the future of storms. He admits the field of meteorology sometimes does a poor job of connecting the dots between unusual weather events and concrete, actionable insight for the public.
"As meteorologists, we're good at saying, 'Hey, this is anomalous,'" he said. "But it comes down to the vulnerability of the public. Can we relay our information to the public to make them better decision-makers?"
This year, small and large scale farmers were among the worst hit by the state's extreme weather.
"Agriculture is a very vulnerable sector," Gensini said, adding that Illinois farmers need to start thinking creatively to adapt to a shifting climate. Innovations like genetically modified crops – i.e. hybrid, drought-resistant breeds of corns – can help get farmers through a dry summer, at least to an extent.
But after last summer, some meteorologists say another year of dryness may exacerbate the industry's problems in a dangerous way. Ninety percent of Illinois is currently considered abnormally dry due to the summer drought.
"If we have another drought and don't get some moisture, farmers will have a tough time," said Jim Allsopp, a warning coordination meteorologist at the National Weather Service in Chicago. "I think another dry year would be very serious."
Beyond agriculture, Illinois residents are vulnerable to extreme weather in other ways as well. It's a reality, Gensini said, that resonates stronger than ever in the wake of Hurricane Sandy. In the case of Sandy, warning residents eight days in advance was still not enough to convince the most at-risk to evacuate.
"We lost 125 people because people chose not to evacuate," Gensini said. "You can warn people eight days in a row, but ultimately it comes down to personal responsibility."
Gensini says federal and state governments need to be more proactive in their approach to disasters like Sandy. That may involve distributing generators en masse to areas where power lines are expected to fall, as well as basics like bottled water, flashlights and batteries.
"Some of that was being done," he said. "But not on a big enough scale."
New technologies may help fill gaps in disaster preparedness. For Gensini, cell phones may prove a crucial tool for future weather emergencies. He says he hopes that, one day, individuals can get automatic emergency notifications on their phones based on their GPS location. For those who don't have cell phones, alerts can go out through more traditional mediums: commercial radio, television, and organized word-of-mouth campaigns.
For Gensini, preemptive planning is key.
"These events are rare events," he said. "But when they happen, it's chaos. In Sandy, we had eight days with the right information. [But] people didn't leave. We could have prevented those deaths."
For many cities, meteorologists say what's missing is a sense of urgency.
"Recognize that there's potential for a major disaster," Allsopp said. "It doesn't always happen to someone else – it can happen to you."
And the perennial question posed to meteorologists: to what extent are these local events linked to climate change? For many in this field, this becomes a tricky question. For Allsopp, it's problematic to draw sweeping conclusions from individual events.
"We don't always understand these events, even as meteorologists," he said.
"Climate change is about long-term, global patterns," Gensini said. "You can't relate one single event in one area in one year to climate change."
Still, he said, the dots are there for others to connect.
"I know [what we're seeing now] is consistent with what published literature says climate change would look like," Gensini said. "We're seeing this year after year."
Tune in to Chicago Tonight at 7:00pm where our panel of experts dissect what the unusual temperatures means for the future.
Are you concerned about extreme weather patterns in Illinois? Post your comments below or sound off on our discussion board!