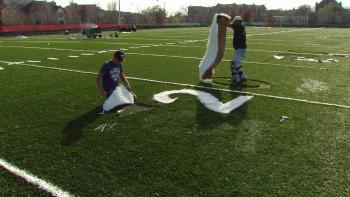 A multimillion dollar public-private partnership here in the city has attracted donors from all over the world. The goal is to help transform some of Chicago's beat-up parks into athletic fields of dreams.
The overhaul is in full swing on the city's west side. Using hot asphalt, workers glue down the seams of turf around the goal posts at Mandrake Park. The all-weather athletic field is the latest to be installed as part of a massive public-private partnership called "Take the Field."
The Chicago Park District is working with The Pritzker Traubert Family Foundation, and a diverse group of donors, to build state-of-the-art artificial turf athletic fields all over the city.
Michael Kelly is the General Superintendent and CEO of the Chicago Park District.
"Artificial turf, it makes sense. You take our parks that are heavily used, they're grass," said Kelly. "They get so much use, the only way for us to keep them green would be to shut them down for six-seven months of the year. In a four-season climate like Chicago, it doesn't work."
Kelly says the new turf fields can be used nearly year-round without the pricey maintenance of grass.
But building an artificial turf field isn't cheap. The average cost of a field is about $1.2 million. Still, it was something The Pritzker Traubert Family Foundation decided was a good investment, committing $5 million to the initiative that targeted 11 fields for completion over two years.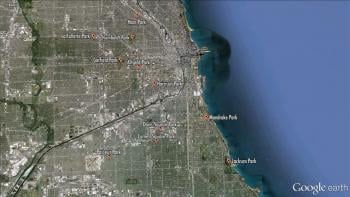 "And the fields, in addition to being lined for football, are also lined for soccer," said Bryan Traubert.
Traubert, who is also the Chicago Park District's Board President, spearheaded the project and sought additional donors to fill the financial void.
"These projects are expensive, but worth it, and I think that was a selling point to a lot of people that we approached, was that this would have a real impact for kids," Traubert said. "It's a palpable impact that you can see kids out here using them, but the impact would last, and would last for 10 or 12 years. And even then, you could resurface them and keep them going."
The adage -- "if you build it, they will come" -- is something all of the partners are banking on.
The city hopes that by taking these battle-worn parks and transforming them into pristine sports fields, they will create epicenters of community activity, and at the same time produce safe zones in some of the city's most underserved neighborhoods.
"And what it does is, the community says, this is our park, this is our neighborhood. And in some of these communities, if there's bad guys, we don't want you in the park. This is ours, stay away," Kelly said. "And it turns into so much more than just originally what we set out to do, which was, we're going to have a kid just get out of the house, run around, play a little soccer, play a little football, into a family-friendly environment where the community rallies around it."
The initiative has attracted generous gifts from former Chicagoans, overseas donors, and the Chicago Bears, who sponsored two parks, including La Follette Park.
"There really are some tough surfaces out there for these kids to play on. And for them to be able to go out there and see the all-weather field with the big 'C' on it, it's got to be exciting," said Marge Hamm from Bears Care. "If we inspire a dream in one child or make them stay on a better path, then it was all worth it."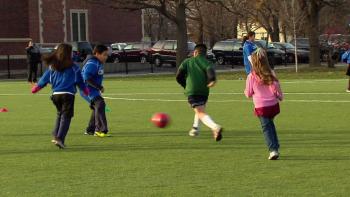 At Haas Park in the Logan Square neighborhood, Urban Initiatives, a sports-based youth development program that uses soccer as a way to engage kids around the mission of health, education and character, is taking to their newly finished field.
The Haas turf field was built with funding from Manchester City, England's current soccer champions.
"They created this field as a way to further engage the community around sports, around activities, around really creating play spaces in the park district that get highly utilized," said Urban Initiatives Executive Director Jim Dower.
Dower says the field has already begun to attract community members who would have otherwise not had a space to play in; both children and adults.
"Ultimately it brings the community in. So, folks who would always walk by and kind of see a loblolly never really wanted to get involved in any kind of activities," Dower said. "Now, they see this beautiful turf field, and all hours of the night people are out here. I live in the neighborhood, I had dinner here on Tuesday night, and there were guys playing here till 11:30 in the dark."
Playing and practicing in the dark has been a huge problem for teams like the Garfield Gators, especially with a longer school day and shorter winter days. Before the new turf field was installed a year ago, Gators Coach Tim Hall says they had little choice but to light up the old muddy field with the headlights from their cars. But now they have a new field, thanks to donors, and lights courtesy of the Chicago Park District.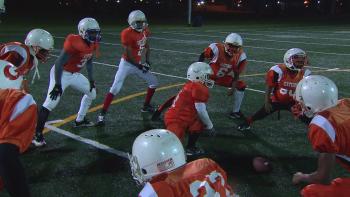 "A lot of kids come out and they wouldn't play football," said Hall. "Oh, I ain't playin' on the rocks and hard dirt and stuff, but once the field got here, we got a bunch of kids that want to come out now. We got soccer over here, we got rugby. Next year, we're introducing lacrosse. So, it's been beautiful."
It's so beautiful, says Hall, that the artificial turf field has already inspired some, like 14-year-old Jordan Scott, to work harder at school -- just to get a chance to play on it.
"I didn't get my grades up last year, so I couldn't play," said Scott. "So, I had to have a 2.5 GPA or higher to play on the team. And I had scored a 3.0 on my GPA so I got to play this year."
Davis Square Park in the Back of the Yards neighborhood was the latest field completed and dedicated this past weekend. Michael Kelly says so far the partnership has raised more than $13 million in private money. But more importantly, he says, it's catalyzing positive change.
"The parks are interwoven in the fabric of Chicago," Kelly said. "Every community rallies around their park. Everybody in Chicago has their favorite park. You build that park up, the community rallies around it, and it just becomes a positive experience for the neighborhood."
The Chicago Park District is expected to complete the 11th field early next spring, and intends to add a 12th field once funding has been secured.