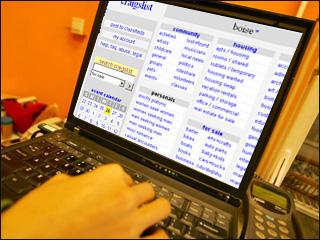 Whenever one visits a foreign country, you always get a list from family members and friends which tells you about the things you are supposed to be carrying back for them. I, just like everyone, was also handed over that list. I won't go too much into what I bought and what I avoided, but for the past couple of days, I was looking to buy a cell phone here.
Apple, which is considered an American brand even though it's made in China, was the first choice. Then I learned that as the new iPhone 5 has just been released, this particular phone is in high demand, and Apple takes around three to four weeks to ship this phone to you. And, in the open market, you could find this phone for something like $800 to $900 in Pakistan.
My second choice was the Samsung Galaxy S III. After checking it at different stores, someone recommended for me to buy it from a website called Craigslist. I was told that you can buy stuff here directly from the seller. This was an interesting concept for me because in Pakistan shopping through the internet is still in its infancy. I went through the website and finally chose one particular phone. This guy was selling it for $450. It seemed like a nice price as it's comparatively more expensive in the open market in the U.S. and Pakistan.
Even though I could have involved someone from the office or one of my family members, I did not, because I wanted to experience it myself. I emailed the guy and he replied back. After the initial questions and answers, the hard part came when he gave me an address for a meeting point. Being new in the city, I hardly knew what he was trying to say.
Anyhow, I told him to meet me at some public place which I could easily locate. He was kind enough to come to a place near the 'Blue Line' and the time was set for 1:00 pm. Google Maps came to the rescue and it told me that it would take 45 minutes to reach the meeting point through bus and rail. When I reached the place, I was 15 minutes early. I waited for the guy and finally he showed up. He seemed like a decent enough guy. After checking the phone and making sure that it was unlocked (as I had to use it in Pakistan), we finally made the deal. He went his way and I took out the Google maps once again to see how to reach the office. This was my shopping experience where I got connected with someone through the internet. I know some of you are skeptics of this kind of shopping, but when I am here experiencing so many new things why not try the new trend in shopping?
So all is good right now. I hope the phone keeps working, otherwise my quest for 'internet shopping' could come back to haunt me someday.