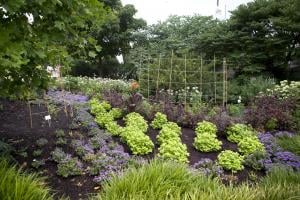 The Shedd Aquarium has the most diverse collection of aquatic animals in the world. But, the Shedd also boasts a secret array of gardens. Some of which are used not only for landscaping and exhibition, but also have a more practical use.
Tucked behind the Abbott Oceanarium outside the Shedd Aquarium, green thumbs are hard at work.
"We're trying to get this cleaned out so that we can re-seed the fescue and have a nice thick carpet of lawn that we need to mow maybe twice a year," said Christine Nye, the Shedd's manager of horticulture programs.
On this warm, breezy day, Nye and her protégés from the Green Gardeners program are cleaning up the migratory bird garden along the Lake Shore.
"They come and work with me for seven weeks in the summer," said Nye. "Mornings in the gardens and learn what we're doing out here in terms of sustainable gardening; then they spend their afternoons as docents inside the building."
Nye says the garden is filled with 70 percent native plants and 30 percent non-native perennials that are well suited for the climate and soil type here.
The garden was installed about four years ago and turned out to be extremely popular with visiting species, partly because it sits along the migratory route of Lake Michigan. The demand led to its expansion from 18,000 square feet to almost 40,000 square feet.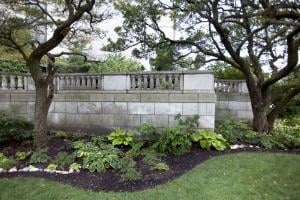 "So, we provide lots of food and shelter for local species -- not just birds but also insects, which is a big part of the diet of a lot birds that are traveling, so we attract thousands, millions of insects back here and that brings the birds in," said Nye.
It's part of an overall strategy the Shedd has developed to cultivate 100 percent organic gardening practices that are not only sustainable, but useful for the many other animals that call the aquarium home, like their monkeys, reptiles and turtles.
"Well, one of the most critically important aspects of caring for these animals is providing them with a nutritious diet, and so for us to be able to augment their diet with fruits and vegetables that we're able to take from our garden, which are organic and which we can get in supply that we wouldn't be able to acquire commercially, is extremely important for the well-being of these animals," said Chuck Knapp, VP of Conservation and Research at Shedd.
Working with volunteer beekeepers from the Garfield Park Conservatory Alliance, the Shedd recently installed two bee hives in its gardens.
These honeybees are here to help ensure a healthy harvest of fruits and vegetables for seasons to come by pollinating the crops in the Shedd's gardens. Crops that are grown for what administrators call enrichment food.
"Animal enrichment is basically a fancy term for specialty items, like flowers, cactus blossoms, which the animals may not get every day, but they provide extra special nutrition or some kind of treat for them," said Meg Matthews.
Matthews has spent the last three years working as the conservation communications manager at the Shedd Aquarium. She says another goal of the program is to inspire visitors to consider green gardening at home.
"So we started growing these enrichment items in order to really connect our sustainability to our guests, to get them thinking about local food that they could find in the Chicago area," Matthews said. "So we're growing things like strawberries, different herbs, pansies are a big one, hibiscus blossoms, different kinds of pumpkins that you might not find all the time. A lot of them go to our turtles and tortoises."
Omelet is a 13-year-old yellow-footed tortoise who is part of the Shedd's collections program. She gets a mouthful of her favorite treats fresh from the garden.
"Right now, she's eating some of the vegetables and flowers we grow here in Shedd's garden. Some prickly pear cactus flowers, some geraniums, some kale, and she just loves it all," said Alice Bareman, assistant supervisor of animal programs at Shedd.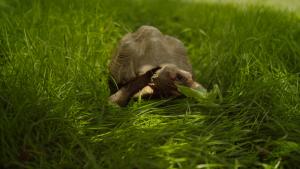 "A lot of [the animals in our Animals program] are herbivores. They eat mostly plants and it's important to get lots of variety in their diet for their health and their mental abilities for their general well being, so we offer them a mix of different varieties of vegetables, fruits, flowers and plants, a lot of which are grown right here on the grounds," said Bareman. "The more color, the more nutrients there are. The benefits of having the gardens is being out in the sunlight as well for them. They get that UV light. It's important for their digestion. It's important to metabolize the nutrients they eat, that they get out of these vegetables and plants."
The Shedd estimates it harvested more than a dozen types of produce last year. That's good news for residents like Omelet, who can't seem to get enough of those prickly pear cactus flowers.