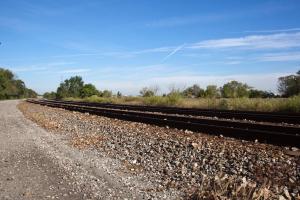 The photographs look like ordinary city scenes -- which they are. But the reason that each location was chosen is not ordinary. In the summer of 2010, between Memorial Day and Labor Day, artist Krista Wortendyke photographed every location in Chicago where a murder occurred.
"I wanted to really explore what it meant in Chicago…as the heat rises so do the homicides; so I decided I wanted to go to every location of a homicide and photograph it, and see for myself what all of that meant," she said.
There were 172 homicides in the summer of 2010. Each photograph is powerful by itself, but becomes even more powerful when put together on a timeline based on when the death occurred. A portion of the timeline is now in Wortendyke's studio.
"To actually physically see every single one of those places, and how they fall in time, and how they take up space on a wall, that then becomes something that's a lot more tangible," she said.
The full timeline was installed on a Wicker Park wall last summer, and at the Museum of Contemporary Art. Even Wortendyke was surprised when she first assembled the timeline.
"That was a great, unexpected thing that happened. Looking at it as a timeline, and putting it up that way, then starts to look like a city skyline. And it really talks about how these homicides are part of the fabric of urban environments," she said.
Wortendyke had one last location to shoot: a 2010 summer murder on the West Side of the city that she had only recently learned about.
Wortendyke's art begins with the photograph of the location, but it is then enhanced by the power of the computer.
All of Wortendyke's photographs from the summer of 2010 can be found on her blog: Killing Season Chicago. When you click on a name, you can find the photograph of the location and information about the murder underneath the image.
The Killing Season photos are also embedded on Google Earth. Google does not name them as homicide sites but the information is available with a few mouse clicks -- which pleases Wortendyke.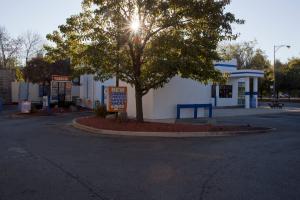 "One of the reasons why I did this project to begin with is because I think that people are very unaware of what's happening in the city around them, especially people that live in neighborhoods that aren't very affected," she said. "So to be able to put these images into Google Earth, people are going to come across them in an organic way, and I think be very surprised at what they find."
Surprisingly, Wortendyke says the project has given her a more positive outlook on humanity.
"The reason that it gives me a more positive outlook is because I am visiting these locations where I would think that I'm going to these locations where this is commonplace, but really the reaction of the people around makes me feel like this is not commonplace, and this is not OK," she said. "I think going in I had the perception that this is just life. It's not my life but it's someone else's life. And everybody else wants to have a good life too."
Wortendyke hopes to have the entire interactive timeline online within the next several weeks.
View the slideshow to see some of the photographs and read the captions for information on the murders.