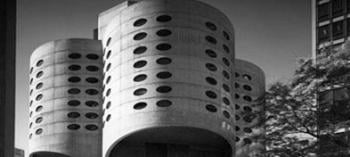 Leading architects from Chicago and around the world are calling on the city to preserve the historic Prentice Women's Hospital. We have the latest on Chicago Tonight at 7:00 pm.
More than 60 prominent architects urged Mayor Rahm Emanuel to save Bertrand Goldberg's Prentice Women's Hospital and help the building obtain landmark status.
In a July 26 letter to Mayor Emanuel and other city officials, the architects wrote that, "A building this significant – this unique in the world – should be preserved and reused…Chicago's global reputation as a nurturer of bold and innovative architecture will wither if the city cannot preserve its most important achievements."
Prentice Women's Hospital was built in 1975 at 333 E. Superior Street to house Northwestern Memorial Hospital's obstetrical and gynecological facilities as well as the Stone Institute for Psychiatry. Chicago-born Goldberg, one of the city's most important native architects designed the structure about a decade after his most famous work, the "corncob" towers of Marina City.
Northwestern University said it wanted to tear down the building last year and replace it with a state of the art medical research building. According to a study commissioned by the university, the Prentice building is "not feasible" for use as a research facility.
"Even if the building could be renovated, the building still would not provide adequate space to meet the research needs of the Feinberg School of Medicine and would not meet the necessary technical standards for such research facilities," according to a summary of the study. "In addition, because the existing floors do not have adequate height, a renovated building could only use every other floor, thereby significantly reducing the efficiency of the building (and dramatically increasing the cost per usable square foot)."
In their letter to the mayor, the architects cite a recently completed landmark recommendation report compiled by the Washington, D.C.-based National Trust for Historic Preservation.
The letter states: "The report confirms what we already believed: that the historic Prentice exceeds the criteria for Chicago landmark designation."
The architects joining in the call to save Prentice come from all across the U.S. Prominent Chicago architects who signed the letter include Jeanne Gang, an acclaimed Chicago architect and winner of a 2011 MacArthur Fellowship, Frank Gehry, winner of the Pritzker Prize and designer of the bandshell in Chicago's Millennium Park, Joe Antunovich, Dirk Lohan, John Ronan, Mark Sexton, and John Vinci, as well as the heads of the architecture schools at IIT and UIC.
"This outpouring of support for Prentice Hospital is truly inspirational," said Stephanie Meeks, president of the National Trust for Historic Preservation. "The list of architects signing this letter represents many leaders in the field of architecture, and testifies to the depth of national and international respect for the work of Bertrand Goldberg."
Read the open letter to the mayor in the PDF below.