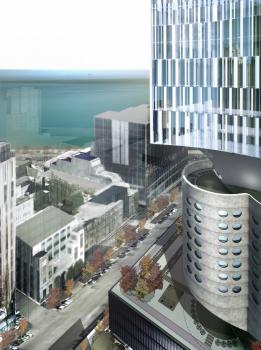 The fate of old Prentice Women's Hospital in Streeterville, owned by Northwestern University, remains up in the air. Preservationists want the Bertrand Goldberg building designated as a landmark, as Chicago architect Jeanne Gang puts forth a bold plan to save the building -- and build something new. Read the following statement from Gang's offices:
"Our major hope is that the concept simply encourages conversations about alternatives for the old Prentice other than demolition. There is so much opportunity here for NU to really connect and add value to the neighborhood without needing to erase Goldberg's architecturally significant building." - Offices of Studio/Gang/Architects
Eddie Arruza talks with a Northwestern university spokesman and a supporter of the Save Prentice movement on Chicago Tonight at 7:00 pm. View the slideshow and visit the links below for more information.