Tonight, we tackle the Frank Lloyd Wright you may not know -- young, inexperienced, and trying to find his way in the vast city of Chicago. A new exhibition, Wright's Roots, takes a rare look at the architect's early years. Curator Tim Samuelson -- Chicago's official cultural historian -- joins us on Chicago Tonight at 7:00 pm.
We spoke to Samuelson about the exhibit. You can also view a photo gallery of Wright's early sketches.
What's most exciting to you about "Wright's Roots"?
We wanted to portray a part of Frank Lloyd Wright's career that no one expects. Frank Lloyd Wright has become a legend – known as someone who pursued purely new, modern architecture. But in trying to find himself in the late 19th century, he experimented with different historical styles.
It was both his knowledge of the past and his idealism for modernism that made him the great architect he was. We tried to juxtapose his early and late buildings.
We're not trying to say Wright was thinking of the future when he did these early works. But they show his sensibilities. In some way he was the human Google – able to absorb a lot of things and pick the best from that.
What kind of feedback have you gotten – especially from those who might have a more rigid, set view of Wright as modernist?
The response has been positive. People have been surprised. I don't think this story has been left out of biographies of Wright, per se, but people just didn't pay much attention. I wondered if people would be offended – but I think this history is a positive aspect of his evolution.
How do you tell a new story about Frank Lloyd Wright when Chicagoans know his story so well?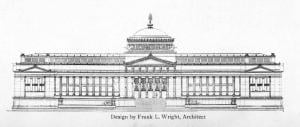 I was interested in this for a long time. I went through old, architectural journals and photographs that weren't explored that much.
I visited some of these buildings while they were still standing. And if you haven't experienced the actual building, you don't know it. It's a challenge to recreate this sense. His buildings are modern, vital, useful, and appeal to the human senses of light, motion and space.
I never find architecture exhibits very successful or satisfying because you don't get a sense of the buildings. Thus, we made the images very large. We've positioned the gallery walls so you go around the corner and suddenly – you encounter a building.
We have actual fragments. In my exhibits, you can touch these pieces; in a typical exhibit, you don't because you're supposed to protect the artifact.
How to convey architecture in an exhibit? It's part photograph, part storytelling. You have to let your own subjective pick out what's wonderful about these buildings.
Who was this aspiring, 19-year-old architect?
He comes to Chicago as idealistic. He has little experience – just brief schooling at the University of Wisconsin. He came from a staunch Unitarian family on his mom's side – they believed in powerful creative expression. His family experimented with different educational methods.
In Chicago, he came across interesting people: architect J. Lyman Silsbee whose houses were asymmetrical, his exteriors going in and out in every direction; [Louis] Sullivan, who helped develop his ideas of architecture as an extension of nature. Chicago was his creative incubator.
Wright was unique in that he could think in three dimensions before setting a pencil to paper. In studying architectural history, he learned what helps trigger beauty and proportion – and he adapted those.
Suddenly, he gets more confidence in himself. He uses his full name. He builds his studio in Oak Park. That's when our exhibit ends.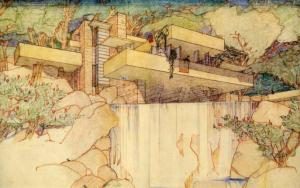 Tell me about Wright's relationship with his mentor, Louis Sullivan, who tried to push him out of certain drafting habits.
Sullivan drew freehand, blending geometry with leaves and swirling forms, while Wright used geometric projection. Sullivan would see this and encourage Wright to draw freehand, unbridled by his tools. He'd try, though he was uncomfortable.
As time went on, Sullivan became more accepting of his approach and eventually adopted some of this in his buildings.
To what extent did Frank Lloyd Wright consciously construct his own public image?
In telling his own story, Frank Lloyd Wright doesn't talk about these early experimentations with style. He claimed he was just trying to get work to feed his family during this period. But when you look at his work, he had certain consistent habits. He was truly searching.
He's become a public legend – larger than life. He didn't try to cover these things up necessarily. But still, people don't realize this history is there.
Wright's Roots will appear at the city-run Expo 72 gallery (72 E. Randolph St.), across the street from the Cultural Center, through September 30. Admission is free.