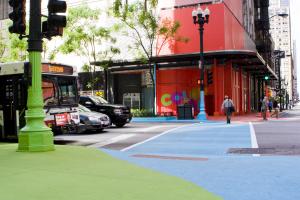 Color Jam is the largest public artwork in Chicago's history. The enormous art piece covers buildings, streets and sidewalks at the intersection of State Street and Adams Street in the Loop. It is the work of Chicago artist, Jessica Stockholder. It is composed of over 76,000 square feet of colored vinyl, which makes it the largest contiguous vinyl project in the U.S.
Stockholder was commissioned by the Chicago Loop Alliance to create Color Jam, a three-dimensional work of art containing flashes of color and geometric shapes that spill from building facades onto the sidewalk and streets.
Color Jam is the third installment in the CLA's annual Art Loop public art initiative, following Tony Tasset's three-story EYE sculpture in 2010, and last year's five-story mural by Kay Rosen encouraging viewers to GO DO GOOD.
Chicago Tonight spoke with Philip Barash, CLA's Director of Marketing and Development about the massive project. Read our Q&A below.
What is Color Jam?
Color Jam is the vision of artist, Jessica Stockholder. The reason that we found her work so compelling and invited her to create this piece is because she incorporates architecture and infrastructure into her work, turning the city into her canvas.
How did you select Jessica Stockholder as the artist? 
CLA is not primarily in the business of arts. We are not art experts, so we invited a group of six top curators in Chicago to help us make the decision, to recommend artists. The group of curators included folks from The Art Institute, MCA, Renaissance Society, Sotheby's, and the City of Chicago's Department of Cultural Affairs and Special Events. They have a lot of insight into what's happening in the art world globally, and to what is happening here in Chicago.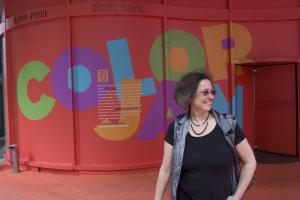 When the curatorial committee met last year, Jessica had just arrived to Chicago to lead the University of Chicago's Visual Arts Department. She was on peoples' radar and she still is. Jessica was the top choice of the committee, so we approached her and started talking.
There's always a moment where it's a little intimidating, meeting a famous artist. Jessica was easy to work with. She understood what we were looking for in terms of impact. She came back to us with this concept. We worked hard and long with figuring out a way to implement it. Jessica had a vision of creating a volume of color at a central intersection, and we worked with a number of people to implement it.
Were you looking specifically for a Chicago artist for this year's Art Loop project?
We look for world class artists. We are lucky to have quite a few in Chicago.
Can you describe the actual project?
It consists of four buildings covered up to 10 stories, or so, in color. It looks as if they were dipped in color. Sidewalks, lampposts, other pieces of street furniture are covered in color, as are crosswalks. When you walk into the intersection, it feels as if you are standing in a volume of color: blue, green, and orangish red.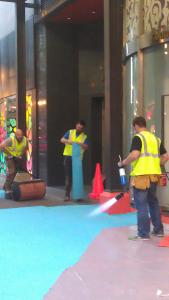 How long did it take to complete Color Jam, from the concept to the final product?
It's been in the works since last September. Nobody really knew quite how to do this, so we spoke with engineers and building owners, and transportation experts and vinyl experts. We even found a vendor in the suburbs of Chicago that handled the Vancouver Olympics, as far as signage for them. They installed the display.
What type of permission did you need to complete Color Jam?
We worked very closely with the Chicago Department of Transportation to get the vinyl on the sidewalks, light posts etc. We worked with building owners and individual tenants to get permission. We worked with Streets and Sanitation, the mayor's office and local aldermen to secure approvals. It was a big project because it involves so much public space. It took a lot of different people.
How is the project funded?
It's funded by the State Street Special Service Area. Private funds are voluntarily contributed by State Street property owners, through the Special Service Area tax. In addition, there are private funds that are donated and raised, including a gift from U of C this year. There are no city funds used for this.
How long will it be displayed?
June 5 is the official opening. But the project has been taking place for the past two weeks. It will be on view through September 30.
Can you tell me a little bit about Art Loop?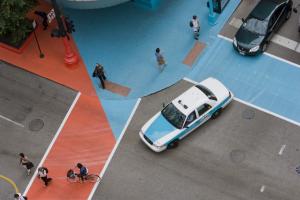 Art Loop is a program of the CLA, which is a downtown chamber of commerce. Public art is one of the things that we do to activate the Loop. Art Loop is a program that brings world class contemporary art to public spaces in the Loop. The reason we started Art Loop three years ago was because urban planners and urban experts everywhere recognize the power of art to transform spaces, and more importantly, people's perception of spaces. Our job at the CLA is to bring people and positive attention to the Loop, and to strengthen Chicago's position globally as an attractive place to live and work, and learn and play, and shop and eat.
What is the Chicago Loop Alliance?
CLA is a nonprofit civic organization that champions the Loop, and promotes the Loop as a vibrant place to live and work, and visit. It does so through policy and advocacy, and through engaging local business organizations as members. It does so through arts initiatives, such as Art Loop, and infrastructure maintenance and enhancement. We have a big mandate. Our members represent a cross-section of businesses, from The Art Institute to small galleries, from mom and pop shops to Fortune 500 companies.
Take a live look at Color Jam below, as pedestrians and traffic interact with the installation during their daily commute.
Meet Jessica Stockholder, the local artist who colorized the gray downtown intersection on Chicago Tonight at 7:00 pm. View the behind-the-scenes photo gallery below.