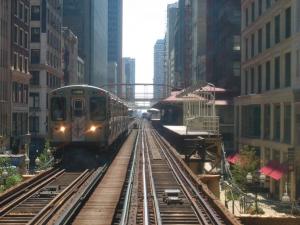 The heavily trafficked Loop "L" is in line for a major facelift. Some parts of the elevated track date all the way back to Mayor Big Bill Thompson. (That's right... Bill, not Jim!)
The elevated junction at Lake and Wells is one of the busiest train intersections in the country.
"On the weekend, we have 500 trains," said Barney Gray, CTA General Manager of Construction. "During the weekdays, about 650 on any given day."
Add it up: that's nearly 18,000 trains in a month.
Now, consider this: some of the rail carrying all of that load hasn't been replaced in a long time, like almost a century.
"So this is what a 100-year-old rail looks like?" I asked Gray, as we stood along the track at the Quincy station in the Loop.
"This is what a 100-year-old rail looks like, and these are what ties look like that are nearing the end of their useful life," said Gray.
Gray pointed out a wooden tie that was cracked. Gray says that the tie would be swapped out during normal maintenance of the tracks.
But this time, the CTA has its sights set much higher. The agency will replace everything between the platforms along the southern and western portions of the Loop, from the junctions at Van Buren and Wabash, all the way to Lake and Wells. That means all the rails, the ties, and other associated infrastructure.
"This is one of the biggest capital projects for 2012," said Gray. "The location in the central business district, and by virtue of it being our busiest junctions, this is a central part of our system."
Gray says that weekday riders will hardly notice anything is going on. That's because crews will work around the clock on weekends.
"Work will begin Friday night after rush hour and will complete before rush hour Monday morning," said Gray.
It does mean some changes for weekend riders, like a reroute of some trains to the northern section of the Loop and shuttle bus service along Wells.
The project will take place over 16 weekends, and is slated to end sometime next fall. The total price tag is $33 million. It's part of Mayor Rahm Emanuel's $7 billion dollar infrastructure program.
The rehab will complete a year's long and badly needed modernization of the entire Loop portion of the "L."
A rehab of the Tower 18 junction, which coordinates traffic at the Lake and Wells intersection, was completed in 2006. Rail equipment along the northern and eastern legs of the Loop were replaced in 2008.
"When we complete this work, that should complete work on the Loop elevated, so we should not have to visit a project of this magnitude for a long time to come," said Gray.
The CTA says construction will not take place during major events like the NATO summit and Lollapalooza. View a map of the Loop Track Renewal Project below.