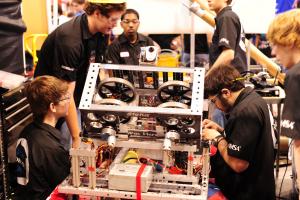 Some call it the Superbowl of Smarts. The organization known as "For Inspiration and Recognition of Science and Technology" or FIRST, kicked off its Midwest Regional Robotics Competition at the UIC Pavilion late last week.
High school teams from around the country built battling robots with the overall goal of cultivating an interest in science, technology and engineering.
Getting your robot cleared by inspectors is a lot like checking in at an airport. The robot must weigh in at less than 120 pounds. And then, fit within the specified dimensions of a metal frame.
Unfortunately, for one team, that means trimming the edges on their robot to pass inspection.
Each year, high school teams aiming to compete at FIRST Robotics work with mentors to design and build robots from circuits, gears and elbow grease to perform the assigned challenge.
At the Midwest Regional competition, 52 teams from all over the country are making final adjustments to their robots before they put their engineering muscles to the test.
Wildstang is a team made up of students, teachers and parents from Rolling Meadows and Wheeling high schools, with mentors from Motorola. 
Senior Jake Wachlin has been with Wildstang for four years.
"I like the competitive aspect. So, it's nice to have the mix of the engineering and the competition," said Wachlin.
This year's engineering challenge is called the Rebound Rumble, in which the robots must acquire and shoot mini basketballs for points.
"There's a variety of goals in this game. Some of the scoring takes place by shooting balls into these baskets. And each level of these baskets has a different point level," said WTTW Engineer Al Skierkiewicz, who has been involved with the competition for 17 years.
This year, he is serving as both lead inspector and electrical mentor for Wildstang.
Everyone competing at the Midwest Regional had six weeks and three days to complete their basket-shooting robots. They all got the same box of parts, and had a budget of $3,500 to purchase additional parts to complete their robots before they faced off in the Rebound Rumble.
But, in the heat of competition, there are always last-minute details that can make or break a robot.
Wildstang team member, Jackie Rhode, showed us a list of items their automaton shooter still needed.
"This is actually the stuff we forgot. It's like packing and you forget your toothbrush. It happens," Rhode said.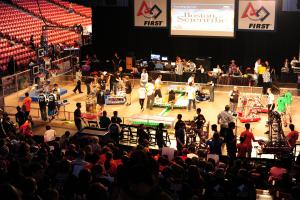 Luckily one of the pillars of the competition is to promote cross-team alliances and cooperation, which is why you'll see more experienced teams reaching out to rookie teams to offer technical support.
That becomes strategically important in the competition because teams play 3-on-3 and have to form strong alliances to win.
"FIRST has a thing called Co-Opertition: it's a mix of cooperation and competition," Wachlin said. "So, if you see in the pits, teams will be asking other teams for help, and all the teams really come together and help each other out here. And then, you get out to the playing field and there's a lot of competition. You're really trying to beat the other team on the playing field, but you don't have to beat them back in the pits."
"The nice thing about this competition is we have a lot of rookies," Skierkiewicz said. "This is their first year coming out. We will be paired up with those rookies, and we'll try and do as much as we can to help them along and to let them help us along because this is really a team effort."
One of those rookie teams is the Techno Ferrets from Knox County, about three-and-a-half hours southwest of Chicago. Amy Brucker is the team's lead mentor.
"It's all called gracious professionalism. And it's probably the main reason I believe in FIRST Robotics," Brucker said. "It's because we're not out here butting heads. We're not out here thrashing about. It's not a SumoBot competition which is a whole different venue. It's really we're here to succeed collaboratively. And I just think in the real world that's going to get these kids farther."
Organizers say the FIRST Robotics Competition is not only intended to instill teamwork and competitiveness in its contestants, but to spark an interest in a lifetime of learning.
"The biggest deal about this whole competition is to get students involved in science, technology and engineering," Skierkiewicz said. "But it's really not even that. Our biggest push is getting students to think about going to college or university, picking something they think they would be happy with, and getting out and getting that education."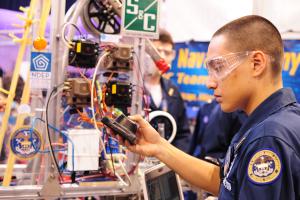 Skierkiewicz says that over the years, upwards of 94 percent of the members of the Wildstangs have gone on to college.
Jake Wachlin plans on studying Mechanical Engineering. He's already gotten into Michigan Tech and MIT, and was one of three area high schoolers to be awarded a college scholarship from the Chicago Blackhawks Alumni Association this year.
Mentors here say the most important lesson of the competition is participation.
"The kids have learned a lot about just learning to see what's really important," Brucker said. "And some of them, obviously all of them, would really like to win something today. But we're OK if we don't. We know we're winners even if we don't. So, we know we've already won just by showing up today."
Win, lose or draw, one thing is for certain, FIRST Robotics fans are just excited to see their teams compete.
Visit the link and photo gallery below for more on the competition.